In many many many ways, I am a disaster at life. My days usually resemble one big cringe-inducing blooper reel, with awkward moments added hourly. (True story: a few days ago, I had a 10-minute conversation with someone before realizing she wasn't who I was actually supposed to be talking to. Her "WTF?" look is one I'm very familiar with.) But one of the few instances where I'm actually on it is weekday lunch. I'm an expert at packing lunches for work, if I do say so myself.
Mostly, I pack lunch out of necessity. My $10 'wichcraft-a-day habit is no longer being subsidized by the 'rents, and as it turns out, my 20-something living in NYC budget has no room for that kind of lunch luxury. Plus, bringing my own food is healthier too — I always include fresh fruit and cut-up vegetables as snacks, keeping my paws off the vending machine and away from our office cafe.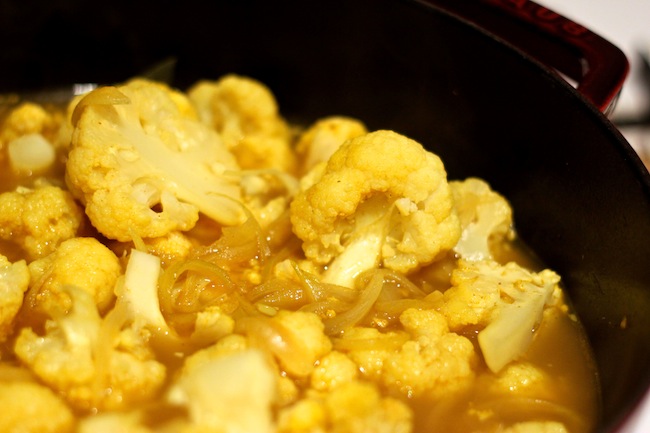 The biggest challenges people face when brown-bagging it are time and variety. My solution? As always, plan ahead. I like to spend an afternoon on the weekends cooking a big batch of something, whether it's a pasta dish or a grain salad or, in this case, curried cauliflower soup. I'll then pack those out into lunch-size portions, so that during the week, I can just grab the already-prepped Tupperware.
If you're swamped on the weekends, as I was when I was traveling all summer, even simply making a pot of plain rice or quinoa on the weekends comes in handy. You can toss that grain with different vegetables and proteins throughout the week (which also helps with variety). Saute any vegetables you have in the fridge, fresh or frozen, with some garlic and onion if you're feeling fancy, then toss with the grains (and possibly some cheese) and call it a day. I make a version of this at least once every two weeks, whether it's with quinoa, farro, or even barley.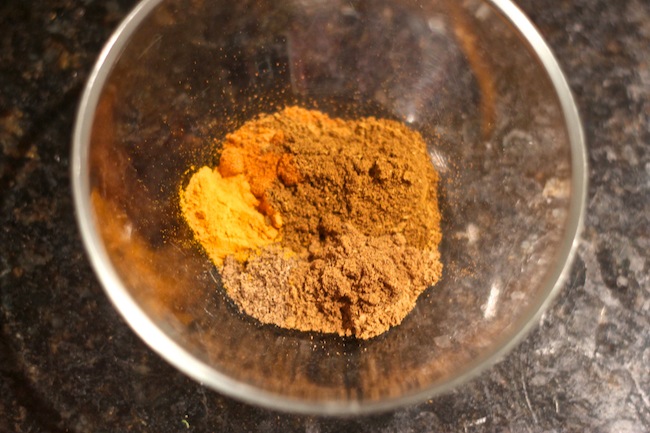 Here are some other tips for packing lunch for work:
1) Keep a well-stocked pantry and freezer. In addition to the aforementioned grains, I always keep a can or two of beans or chickpeas on hand, as well as corn and diced tomatoes. The freezer is usually packed with some sort of veggie medley, broccoli florets and edamame. Toss a combo of these things together for a quick bean salad or stir fry.
2) Leftovers are gold. The only thing better than lo mein delivery for dinner is lo mein for lunch the next day. Ordering the larger size or cooking an extra serving or two of dinner is the easiest packed lunch ever.
3) Think simple. There's no need to get too fancy with lunch — don't bother with overly fussy things, ie. anything that needs to be reheated in a special way or plated in a specific manner. You're most likely eating out of Tupperware with a plastic fork, so let's not get carried away.
4) But simple doesn't mean boring. You don't need to eat PB&J every day (unless that's your jam, in which case, you're awesome and I salute you). Adding spices, sauces, fresh or dried herbs, nuts, dried fruit and/or cheese can liven up the most basic dishes. If you're really in a pinch, a squeeze of lemon juice works wonders.
5) Be flexible. As evidenced by this blog, I really like composed meals with a set recipe. But by the end of the week, my kitchen is usually woefully bare. Fridays are usually my "clean out the fridge" day — tossing together the four baby carrots and six grape tomatoes and tiny bit of cheese and handful of spinach leaves and a quarter of an almost dying avocado in a Tupperware with some balsamic vinegar and a splash of olive oil. It's not the most delicious salad in the world, but it tides me over until dinnertime, and really? Isn't that what lunch is about anyway?
What are your tips for brown-bagging lunch?
Curried Cauliflower Soup
Adapted from The Kitchn
- 2 tablespoons extra-virgin olive oil, plus more to serve
- 1 large onion, thinly sliced
- 1 large or 2 small bay leaves
- 1 teaspoon salt, divided
- 3 cloves garlic, minced
- 1 large head of cauliflower (about 3 pounds), trimmed and cut into florets
- 4-1/2 cups water or low-sodium vegetable broth
- 1/2 teaspoon coriander
- 1/2 teaspoon turmeric
- 1 teaspoon cumin
- 1/2 teaspoon cayenne
- 1 teaspoon garam masala*
- 1 cup coconut milk
- freshly-ground black pepper, to season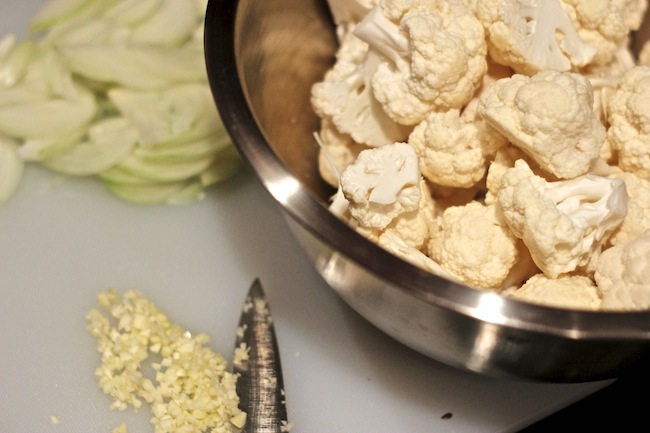 *Garam masala is a spice blend common in Indian cooking, usually containing some combination of cardamom, cumin seeds, pepper, cloves, cinnamon, etc. I used Swad's version, which includes coriander, red chili, cloves, cinnamon, curry leaves, dried mango powder, bay leaves, cumin, fennel, salt, black pepper and anise. It's apparently authentic enough that my mom buys bags of it to send to our family in India …
1) Heat oil in a large heavy-bottomed pot over medium heat. Cook the onions, bay leaves and 1/4 teaspoon of salt for 10-12 minutes, until the onions are soft and beginning to brown. Reduce the heat to low, add the garlic and cook for 2 additional minutes.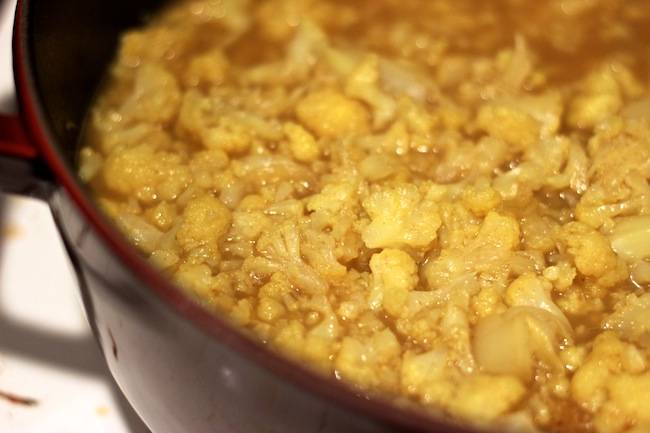 2) Add the cauliflower, water or vegetable broth, coriander, turmeric, cumin, cayenne, garam masala and remaining 3/4 teaspoon salt. Bring the pot to a boil over medium-high heat, then reduce the heat to low. Simmer until the cauliflower is fork-tender, about 20 minutes.
3) Either using an immersion blender or a regular blender, puree the soup.* Stir in the coconut milk, then taste and add more salt, pepper or spices if needed. Simmer for an additional 10-15 minutes, then serve (see serving options below).
*If using a regular blender, work in batches to puree the soup until smooth. Use a towel to hold the top of the blender tight, and never fill the blender more than halfway. Return the blended soup to the pot. You can use a stick blender to puree the soup right in the pot.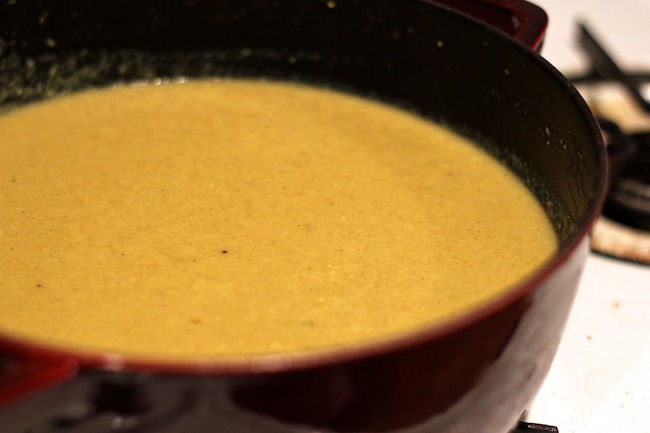 Serving options: a handful of roasted cashew pieces, finely chopped parsley or cilantro, red pepper flakes, a swirl of olive oil, a small dollop of Greek yogurt or sour cream (to counteract the heat), toasted pita wedges or, my favorite, the heel of a loaf of crusty, seeded bread.
You May Also Like ...