A few months ago, Nila posted a link on my Facebook informing me of $30 tickets to see Lil Wayne (and T.I. and 2 Chainz) in concert. In Detroit. Within a week, tickets were purchased, flights were booked and parents were put on high alert. And from then until last weekend, all I ever heard from family and friends was, "Really? You're going to Detroit? For a rap concert?"
Well technically, I was going to visit Nila, who has lived in the Motor City for a year and therefore knew all the great places to eat. And as is our wont, we explored Detroit one meal at a time, with one very memorable concert along the way. Despite recently filing for bankruptcy, Detroit is rapidly becoming the place to be, so here are my favorite "bites" from the city.
Green Dot Stables
My one request for Nila was to take me to her favorite place in Detroit, and this was her pick: Green Dot Stables, which features a menu full of sliders, including traditional burger-style, pulled pork and chicken options, as well as vegan/vegetarian choices, seafood, hot dog-style sliders and more.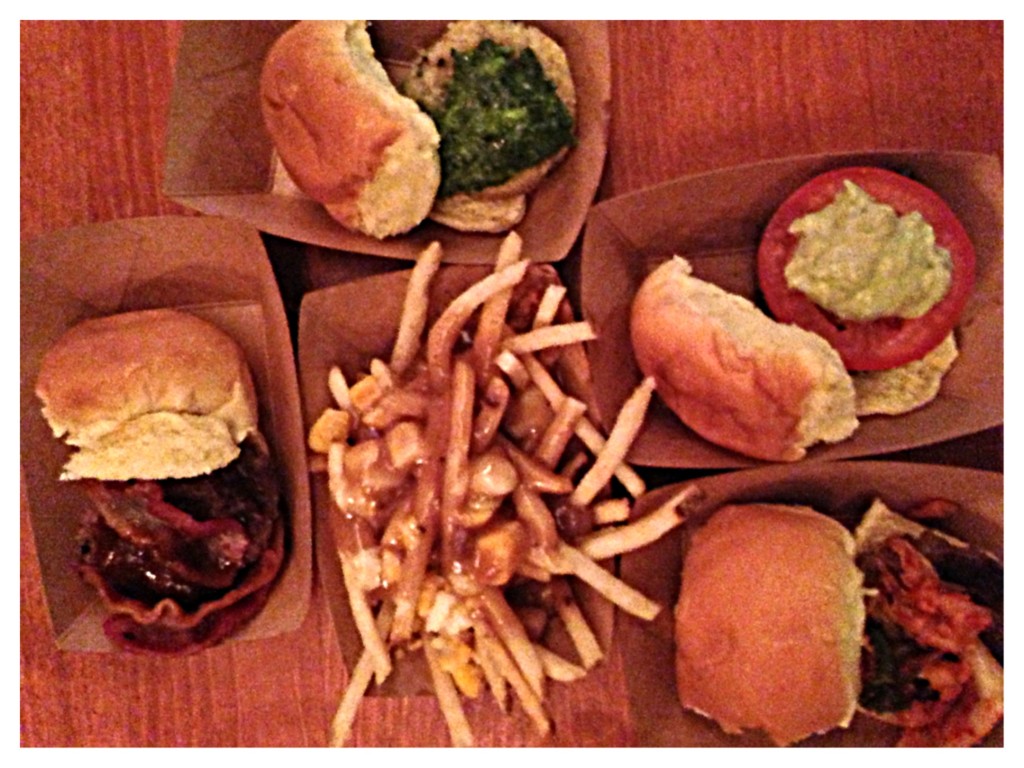 I tried the black bean and the Korean-style (a beef patty topped with kimchi and peanut butter), and Nila got the BBQ bacon and a quinoa burger with kale chimichurri. We also shared poutine, which are a Canadian specialty, but I suppose that since Detroit is so close to Canada (literally a bridge away) this gravy-and-cheese-curd-topped-fries dish made its way over. The food was delicious, and I loved that the menu was so surprisingly adventurous. Also amazing? The prices — everything was less than $3, including the cocktails … is it any surprise this was my fave place in Detroit too?
Roast
Located in the Detroit's downtown area, Michael Symon's Roast has a decidedly more upscale feel than Green Dot. Prices are obviously more upscale as well, unless you go to their amazing happy hour as Nila and I did. From 4:30-6:30 p.m. during the week, Roast offers a special bar menu, which includes a selection of bar snacks, as well as a red and white wine option and draft of the day — all for $5 and below.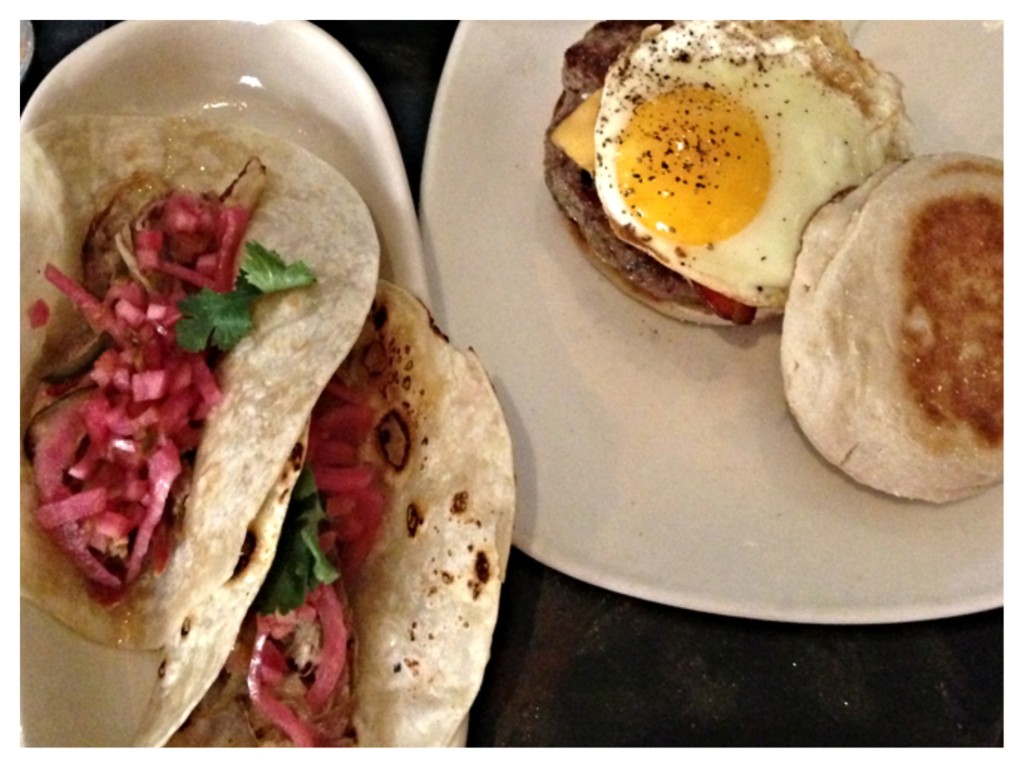 On the day we visited, their menu included a bacon, cheddar and fried egg-topped burger, mac 'n cheese, fries, sausage-stuffed peppers and lamb tacos — we got the burger, peppers and tacos, which were all delicious. We also ordered the brussels sprouts with walnuts and pecorino from Roast's dinner menu, and that was my "AHHHHH" moment. The sprout leaves were fried until crisp and chip-like, then tossed with the toasted walnuts and salty cheese for an amazing dish that almost made me long for fall. Roast is a great deal if you can get there in time for happy hour!
Slow's Bar-B-Q
Slow's is probably Detroit's buzziest restaurant, as evidenced by the line of people waiting for tables as early as 5 p.m. on Saturday (!!!) The BBQ joint began the revitalization of Corktown, one of Detroit's trendiest neighborhoods nowadays, and the restaurants sits on the same block as Sugar House and Astro Coffee, two other places on this list. (It doesn't hurt that Nila lives walking distance from all of these places, so we got to know them well.)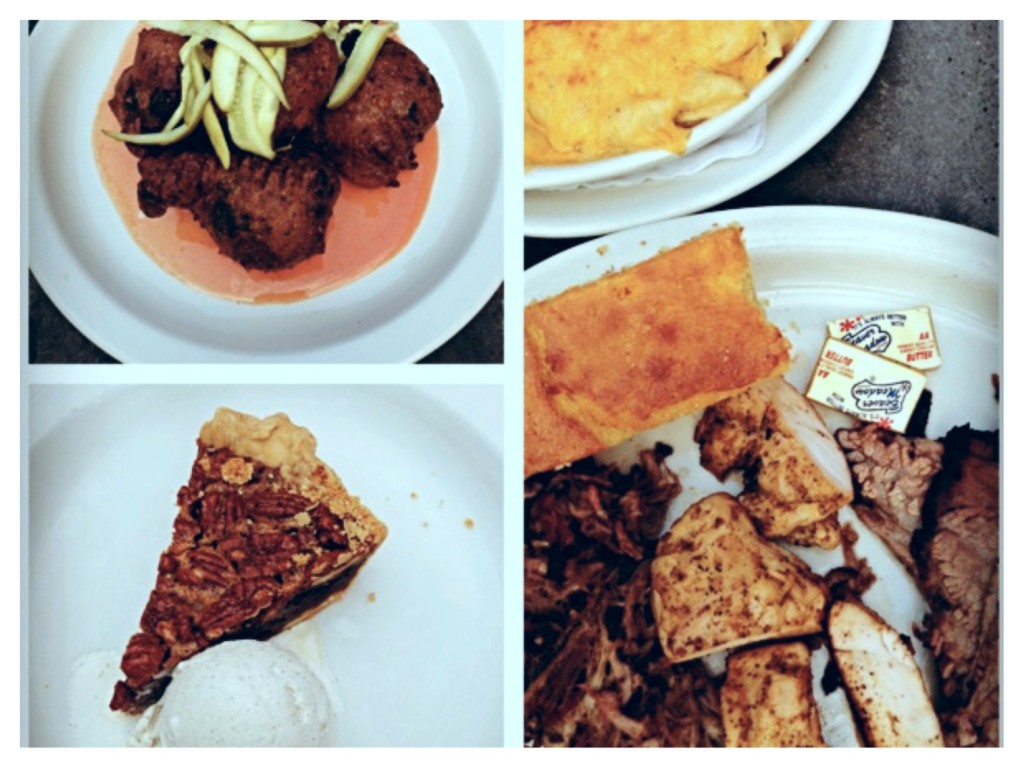 We got okra fritters to start, then the sampler of pulled pork, brisket and smoked chicken, with mac 'n cheese and cornbread on the side. Since Detroit is no barbecue town, they include four different sauces at each table: spicy, sweet, North Carolina-style vinegar and apple. I was really into the apple, which was tangy and sweet and smoky (and we all know how much I like fruity BBQ sauce). Truth be told, I wasn't too hungry (see: after-effects of concert the night before) so I didn't get to enjoy the food as much as I would have liked, but the chicken was surprisingly juicy and flavorful for plain old chicken breast and I really liked their pecan pie.
Sugar House
I didn't remember to take any pictures of this swanky bar, which is sandwiched between Slow's Bar-B-Q and Astro Coffee (see below), but their cocktail menu would fit in at any fancy-pants mixology spot in NYC. Beyond the 100 classic drinks listed in ABC order, Sugar House's menu also includes seasonally inspired selections, with knowledgeable waiters who patiently dealt with a certain "what do you recommend based on what I like" request (ahem.) and delivered a cucumber-mint-gin concoction that was delicious.
Great Lakes
Fact: I worked both Thursday and Friday while on vacay. On Thursday, after surviving a 6 a.m. flight, Nila dropped me off at Great Lakes, a coffee shop in Detroit's Midtown neighborhood. I was in desperate need of some good coffee, and Great Lakes did not disappoint — they carefully source their beans and then roast them in small batches just outside of the city.
Great Lakes also features a seasonal menu of small plates, sandwiches and flat breads that presented me with my first healthy eating challenge just hours after starting my vacation. I was able to stave off the egg sandwich cravings in the morning, choosing yogurt and berries with chocolate-coffee granola from Detroit-based company Simply Suzanne. But by lunchtime, I couldn't resist the chorizo and manchego flatbread, which came topped with arugula and was crisp and cheesy and salty without being overly decadent or heavy. I also loved how accommodating they were about me camping out for 8 hours in one of their prime spots, though the cafe is gigantic and apparently a hot spot for fellow work-from-homers.
St. Cece's
Proof that you should never judge a book by its cover, St. Cece's is a small neighborhood bar in Corktown that just happens to have an extensive beer list, a fascinating cocktail list (featuring Absinthe, hibiscus-infused gin, jalapeño-infused tequila [though I advise you to steer clear of this if you know what's good for you ... ], and creme de violette) and a food menu that goes far beyond wings and nachos.
We went to the bar after dinner, so I wasn't able to try the noodle bowl (which can be either made with tempeh so that it's vegan or with pork belly), but we did order the raw vegan blueberry "cheesecake." Made with cashew cream, chopped cashews and plenty of fresh local blueberries, this thing was unreal — def way more exciting / interesting than the usual ice cream and brownie at most bars.
Honorable Mention
Eastern Market
A gigantic farmer's market with fresh fruits and vegetables from Michigan's many farms, Eastern Market also showcases artisanal wares such as Slow Jams' preserves, jellies and jams, Simply Suzanne's granola, local bakeries, crafts, etc.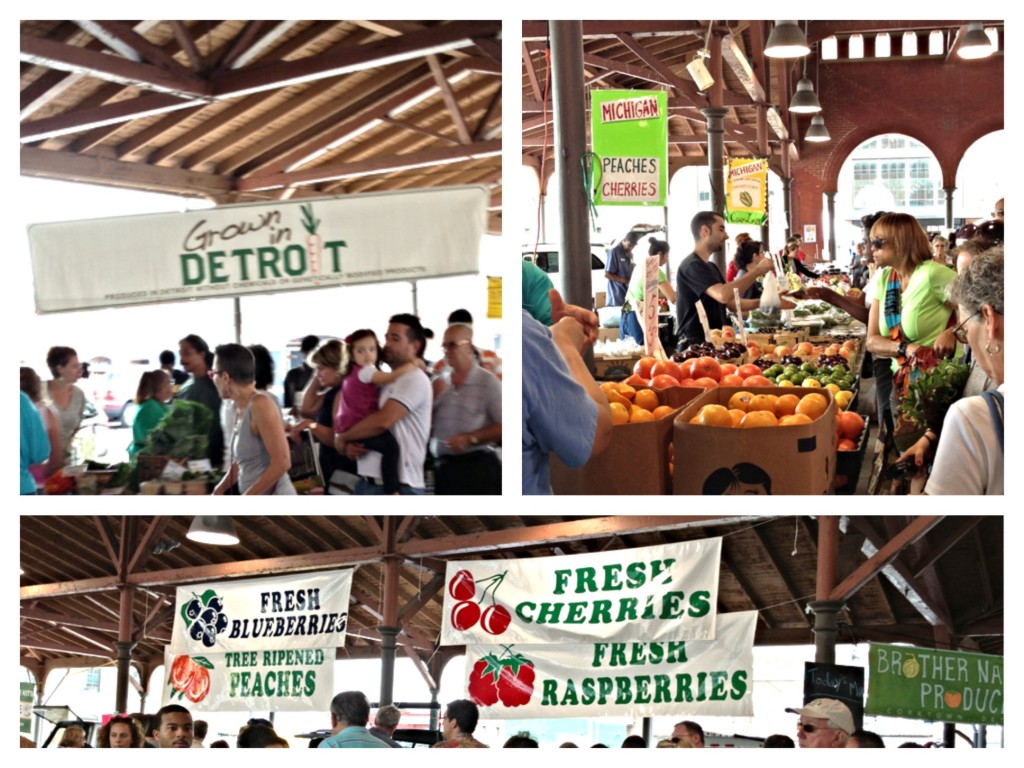 There are also food trucks selling beignets, tostadas and other snacks, and an entire shed filled with local restaurants and cafes offering snacks and lunch for the thousands of people who come here on Saturday mornings. We didn't get to try anything unfortunately, but this is on my must-do list for when I come back!
Astro Coffee
Yet another spot on that same block in Corktown, Astro Coffee is a small coffee shop where everything, including the iced coffee, is brewed pour-over style. They have a small food menu as well — we came for breakfast and they had a few different sandwiches, a salad, yogurt and a few pastries. Not as extensive of a menu as Great Lakes, but their egg sandwich, with cheddar and the surprisingly delicious addition of coarse mustard, really hit the spot.
Nila asked me at one point during the trip what I thought of Detroit. For whatever reason, I totally ignored her question, but to answer it now: I really liked it. It reminded me a lot of Williamsburg, though much less pretentious. Also, it was way cheap, which obvi I'm into. I'd actually really recommend it — there's a great budding food scene and cool bars, even if you don't get to see Lil Wayne.
You May Also Like ...