Chipotle Beef and Cheddar Grits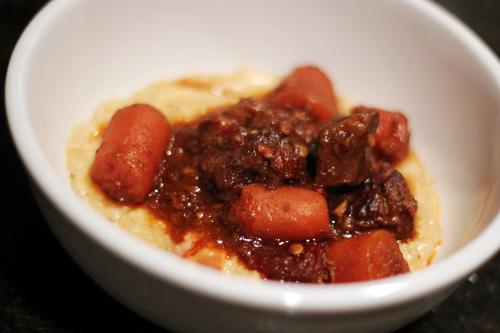 My first encounter with grits stems from one place and one place alone: this clip. (And also this one. Does that make it two places? To be fair, it is the same [excellent] movie*.) If you're not into watching laugh-out-loud movie clips in horrifyingly low resolution, grits are coarsely ground dried corn or hominy, simmered in water and then topped with butter. They're a staple down South, but have been largely ignored up North — often passed over for their Italian cousin polenta, at least in my experience. (Here's a quick breakdown of the differences, if you're curious.)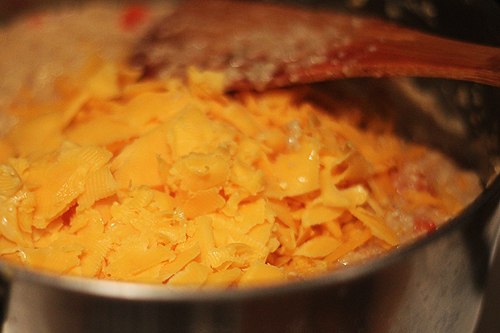 But anything cooked with copious amounts of cream and cheese is guaranteed to re-pique my interest, especially if that food originates in the Dirty. Obviously my quest for anything Southern led me straight to the Pioneer Woman, who takes such beautiful pictures of life on a farm that it makes me want to up and leave NYC immediately.
She tops her cheesy grits with a smoky, spicy chipotle beef stew that pairs beautifully with the sweet corn. The stew also had the double purpose of heating up my apartment for a few glorious hours, wafting the aromas of cumin and chili and garlic like a delicious scented candle.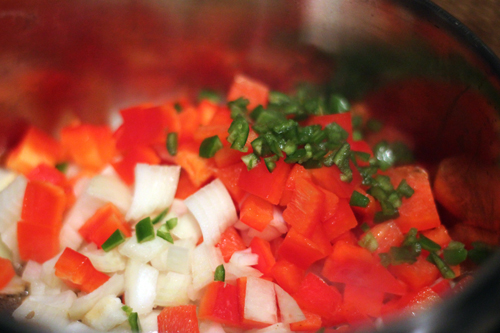 Separately, the stew is a touch on the salty side and packs quite a spicy punch, and the grits are a bit too sweet to be eaten alone. But eaten together? Pure cheesy, meaty, hearty bliss, a much-needed salve against the chill of winter.
*No seriously, My Cousin Vinny is high on my list of favorite movies. I have may or may not have considered dropping a friend because she hasn't seen it yet … (kidding. sort of.)
Chipotle Beef and Cheddar Grits
Adapted from The Pioneer Woman
For the beef:
- 2 tablespoons olive oil
- 1 pound stew meat or diced chuck roast
- 6 ounces chipotle peppers in adobo sauce, peppers diced
- 2 cups low-sodium beef or chicken stock
- 3 cloves garlic, minced
- 2 tablespoons cumin
- 1 teaspoon chili powder
- 1 large carrot, peeled and chopped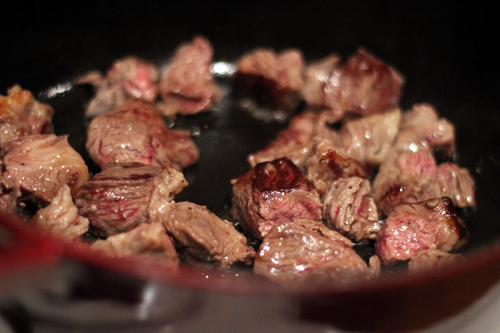 1) Heat the oil in a large heavy-bottomed pot on high heat. Add the meat and brown for a few minutes.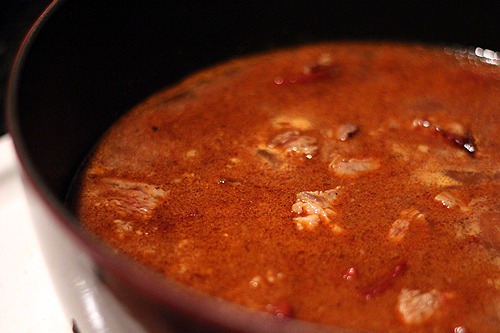 2) Add the chipotle peppers and sauce, stock, garlic, cumin, chili powder and carrots. Stir and bring to a boil. Reduce the heat to low, then cover and simmer for 2-1/2 to 3 hours, until the meat is fork tender. (Check on stew every now and then, stirring and adding more stock if necessary.)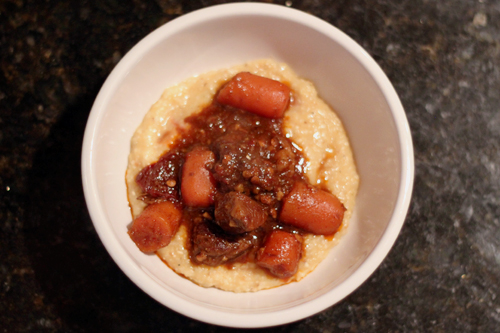 3) Once the meat is tender, uncover and bring the stew back up to high heat. Cook until the liquid has thickened slightly, 7-10 minutes. Serve with cheddar grits.
For the grits:
- 1 tablespoon olive oil
- 1/2 onion, diced
- 1 red bell pepper, diced
- 1 serrano pepper, seeded and diced
- 1 cup stone-ground grits
- 3 cups low-sodium chicken or beef stock (or water)
- 3 cups water
- 1 cup milk
- 1 cup grated cheddar cheese
1) In a separate pot, heat the oil and add the onion, bell pepper and serrano chili. Cook for 5 minutes, until the vegetables have softened slightly.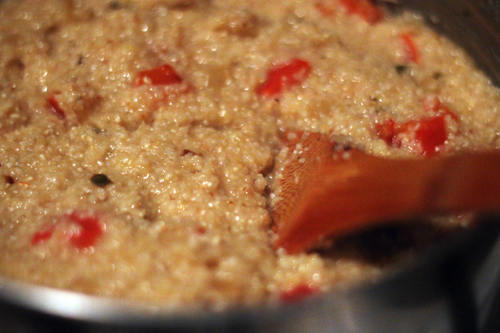 2) Add the grits, stock and water, then bring to a boil. Then, reduce the heat to low, cover and cook for 30 minutes, stirring occasionally and adding more water if necessary.
3) After a half hour, add the milk and cook for an additional 20-30 minutes, until the grits are tender. Remove from heat and stir in the cheese. Serve with the chipotle beef.