Lentil Soup with Bacon
When I wake up in the mornings, my first reaction is to turn off the alarm and the second is to check the weather. I like to know whether I can expect clouds or sun, and then consider what I'll wear to work as I lay in bed. (Ninety-nine percent of the time I am inappropriately dressed for the weather, and that may or may not be because I plan my outfits in a half-awake daze at 5:07 a.m.)
This morning, I woke up to a temperature so ludicrous that I took a screenshot (to remind myself later that this was actually real life) and then went straight back to bed. What's that you say Weather.com, "feels like -4F"? Fine, I'll double-wrap myself in blankets and see you in April.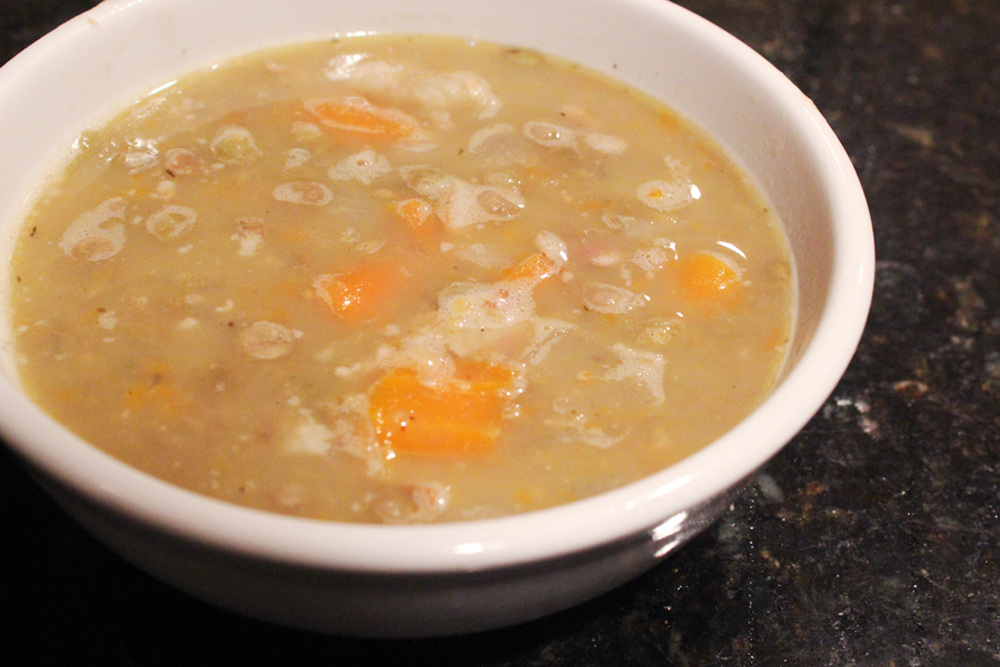 But because this is my first week at the new job, it's a bit too early to call in sick for a few months, so therefore, I was forced to leave my cozy comforter and head out into the brutal, bone-chilling cold.
Unsurprisingly, I've been craving very specific meals this week: if it's not warming and filling and stick-to-your-ribs, I'm not interested. I even made my first-ever grown-up kitchen purchase, a cast-iron Dutch oven so that I can braise all weekend. (Our heater has been on the fritz, so anything that keeps the oven on for a few hours is doubly appreciated right now.)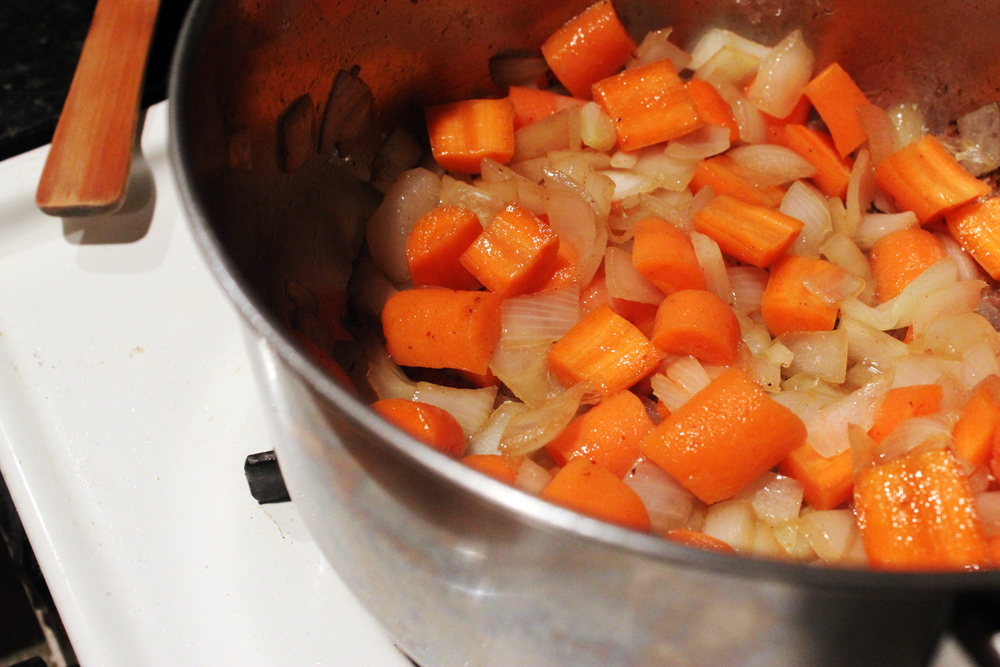 While this lentil soup doesn't warm your room for hours on end, it does warm your belly.* Lentils are always comfort food for me, since dal was a staple of my childhood, and though the flavors of this soup are different, it offers the same feeling of nourishment that I get when I eat dal. It's hearty and filling and all of the above, with sweetness from the carrots and a smoky saltiness from the bacon. It's also mostly hands-off cooking, which gives me plenty of time to get back under the covers and watch my new favorite show.
*In a way, this is a blessing. I've been craving beef stew all week, but will have to wait until the weekend to make it because spending 2-3 hours waiting for dinner after a full day of work is just not going to happen.
Also, let's ignore the fact that this may be the ugliest thing I've ever photographed. It tastes delicious, I promise!
Lentil Soup with Bacon
Adapted from Mark Bittman
- 4 ounces bacon, sliced into matchsticks (lardons)
- 1 small onion, chopped
- 1 cup peeled and diced carrots
- 1 cup green or brown lentils, washed and picked over
- 2 bay leaves
- pinch of dried thyme
- 6 cups stock (or water)
- salt and pepper, to taste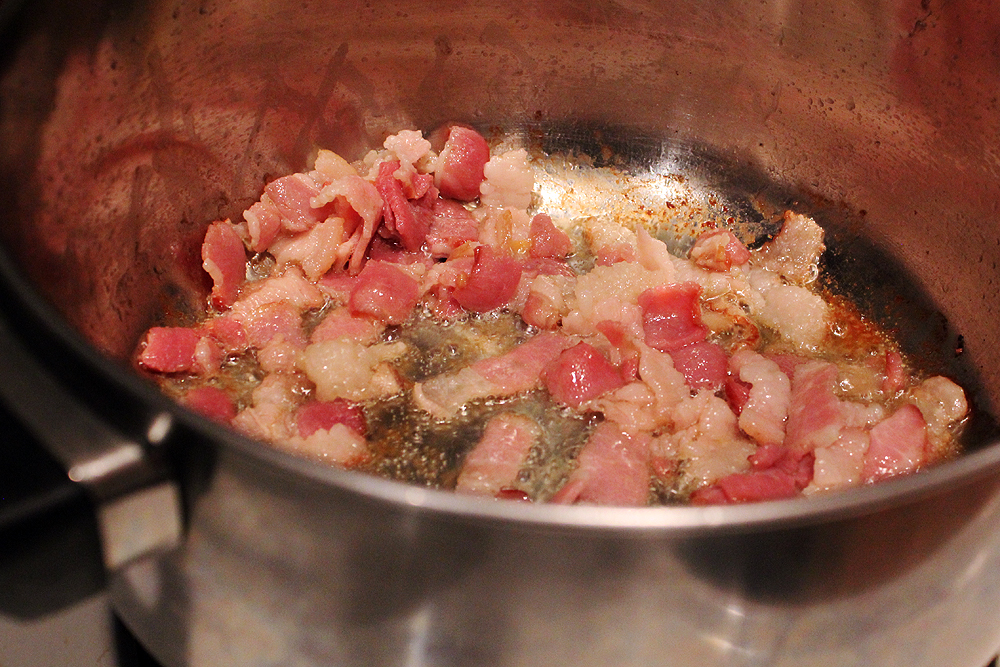 1) In a large pot on medium heat, cook the bacon until slightly crisp. Set aside, and drain all but two tablespoons of the fat.
2) Add the onion and cook for a minute or two, until they are just soft. Add the carrots and stirring frequently, cook for another 2 minutes.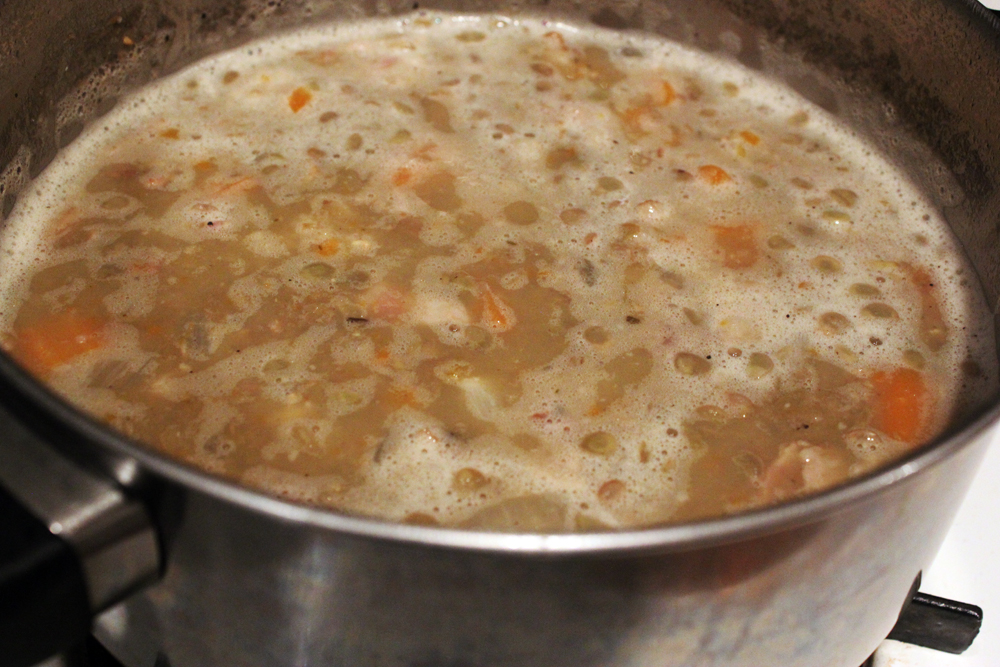 3) Add the lentils, bay leaves, thyme, stock and the cooled bacon. Sprinkle with freshly ground black pepper, then bring to a boil.
4) Turn the heat to low and cook, stirring occasionally, until the lentils are tender, 30-40 minutes.* Just before serving, taste, sprinkle with salt and more pepper if needed, and serve.
*At this point, I pureed half of the soup using a stick blender for a chunky-smooth consistency. Upon reflection, not worth the trouble …