Penne with Brussels Sprouts and Bacon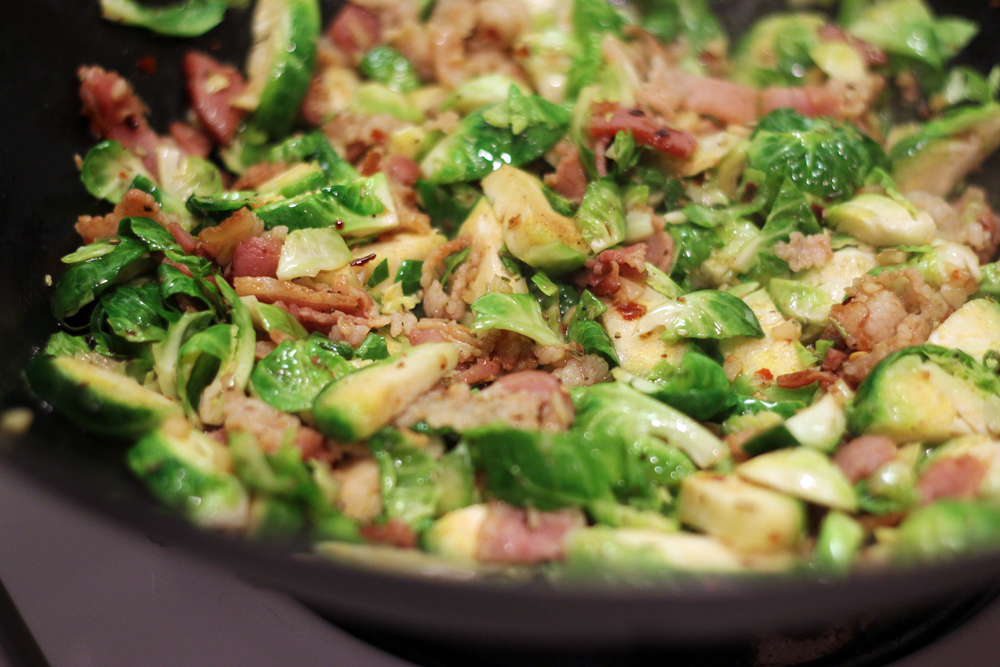 After an epic 48 hours of traveling, vacation is officially over (tear, tear). While I have many stories to share from India, right now I'm more concerned about the fact that it's time to get back to reality and well, I don't wanna!
The beginning of the year is a time for me to take stock of the past 12 months and create new goals. I'm very into resolutions for the first two weeks of January, and then, well … there's a reason why most of my new goals are actually repeats. Given that I ate with reckless abandon over the past three weeks, obvi eating clean is on there. I'd love to run more this year, and travel more and write more and read more and get back to doing crossword puzzles and also, stop drinking so much Diet Coke.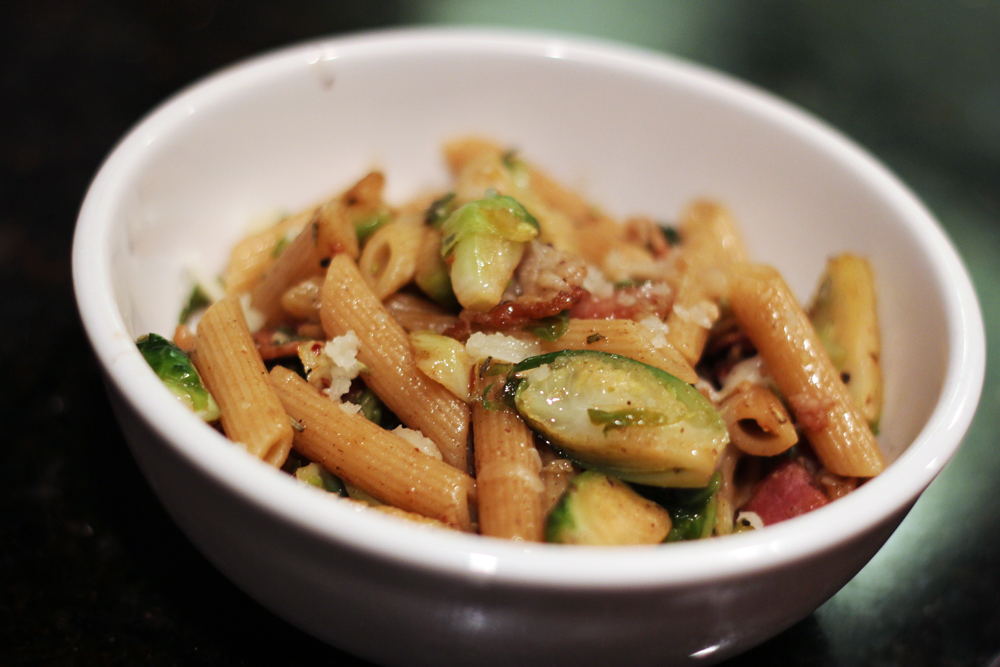 I'm still waffling on trying the vegetarian thing again, partially because I'd be missing out on the deliciousness of dishes like this. Let's not talk about the fact that I actually made this in November, and instead focus on the pairing of bacon and brussels sprouts, explored here previously and brought to near perfection in Melissa Clark's simple pasta dish. It's easy, hearty and wholesome, a perfect recipe for busy winter weeknights. Which is perfect because my number one resolution for 2013 is to kick my Seamless addiction, which has swollen to an embarrassing 2-3 times per week rate.
What are your resolutions for 2013? And more importantly, what are your weeknight go-to's?
Penne with Brussels Sprouts and Bacon
Adapted from Melissa Clark
- 8 ounces penne
- 4 ounces bacon, diced
- 1 teaspoon dried rosemary
- 6 garlic cloves, minced
- 2 teaspoons crushed red pepper flakes
- salt and pepper, to taste
- 8 ounces brussels sprouts, thinly sliced
- 1 tablespoon olive oil
- freshly grated Manchego cheese
1) In a large pot of salted water, cook the pasta al dente, according to the package instructions.
2) As the pasta is cooking, heat a large saute pan. Add the bacon and rosemary, and saute until the bacon fat begins to render and the bacon begins to turn translucent. Add the garlic, crushed red pepper and black pepper, then saute until the garlic and bacon begin to brown (about 3 minutes).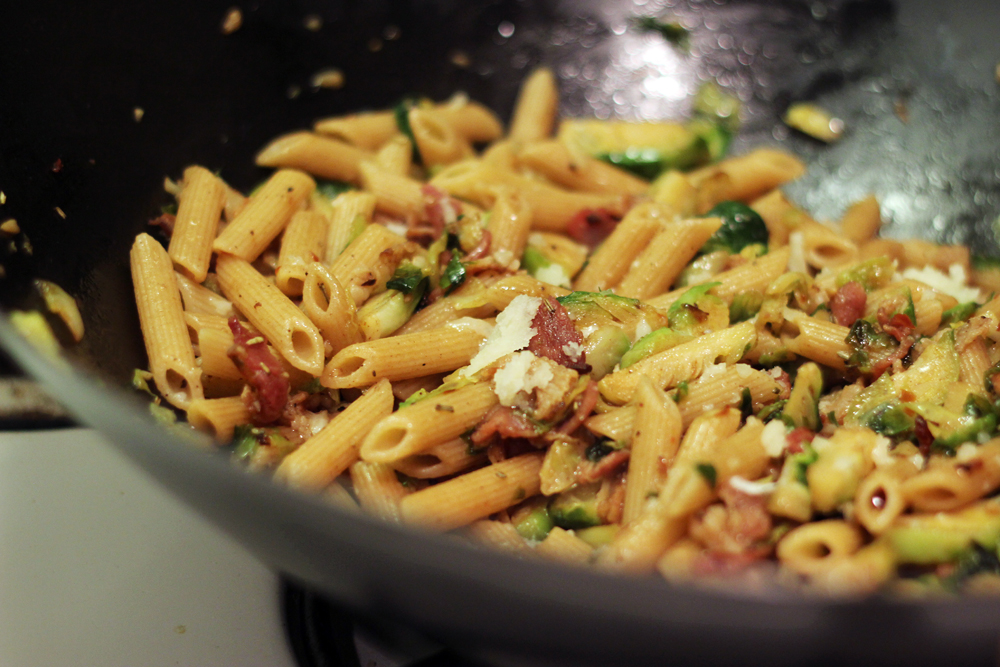 3) Add the brussels sprouts and a splash of water to pan, and sauté until the sprouts just start to soften, about 2 minutes. Spread the sprouts mixture in the pan and press them down to flatten. Let them sear for a minute, then stir and repeat (this helps brown the sprouts). Add the olive oil, and sauté for another minute.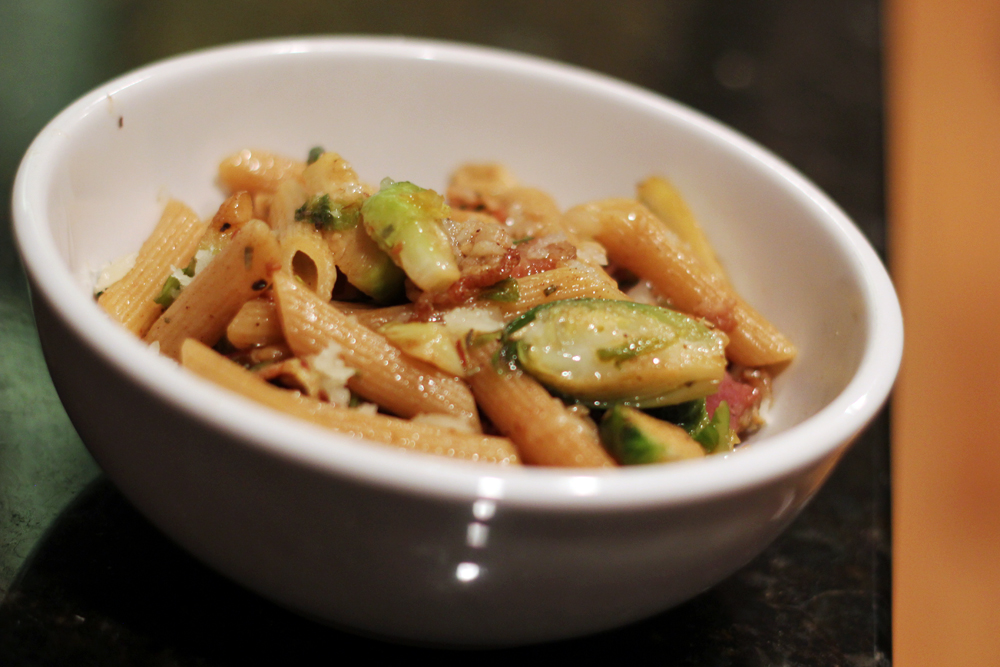 4) Drain the penne, reserving two tablespoons of pasta water, and add the pasta and pasta water to the brussels sprouts mixture. Toss everything until it is well mixed. Top with grated Manchego or Pecorino and serve.