Cheers to 2013!
[Ed. Note: I'm in India and have already celebrated the new year, but I wanted to share a post from my biffle Milan. While I'm more than content to ring in 2013 with a cold bottle of cava, she's a whiskey girl through and through, so I asked her to share her favorite winter cocktails, along with some of the history of this storied spirit. Enjoy, and happy new year!]
Whiskey, derived from the Gaelic "usquebaugh," or the "water of life," is my favorite beverage second only to water. Its versatility, colors, scents, and of course, tastes, all make any of its variants precious to me. There is, also, the matter of its incredible ability to warm me up from the inside out. So, now that it's finally chilly in Cali, it seems only natural that I open up the bottles of whiskey, bourbon, and my truest love, scotch, to ring in the new year.
This year, I intend to celebrate the end of a fairly brutal 12 months in a hot tub with some hot drinks — we can start with the obligatory bubbly, revel in bourbon hot cocoa, and end with either a hot toddy or my treasure, Laphroaig.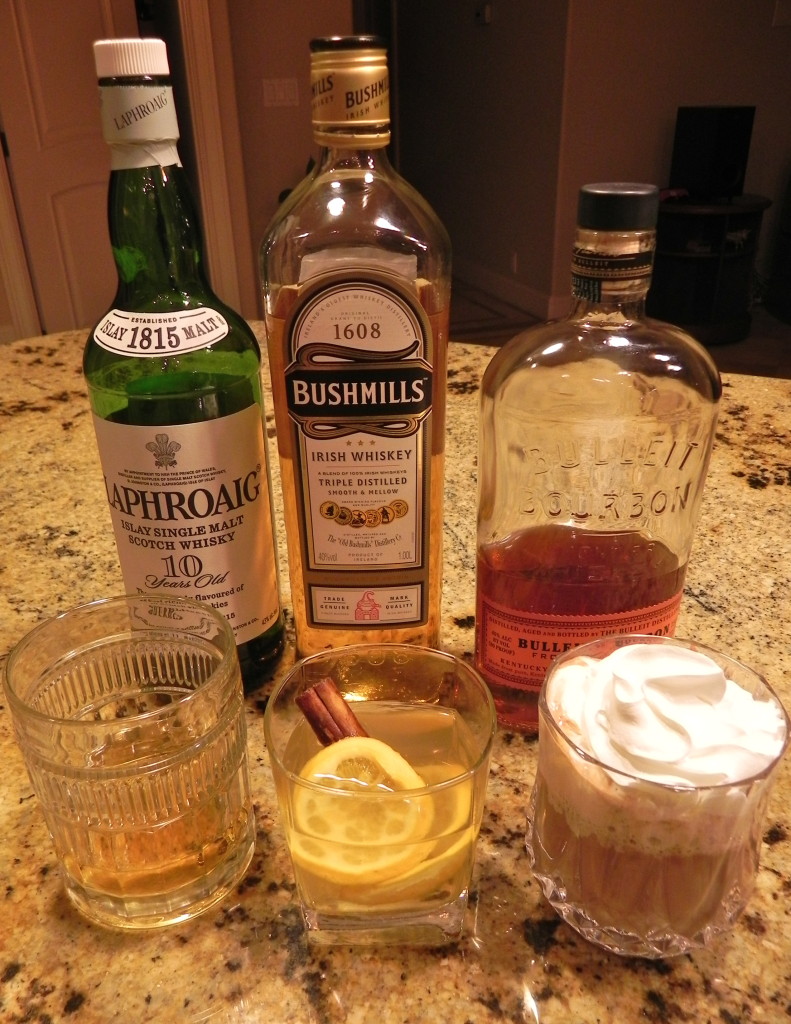 First, let me break down whiskey: whiskey is the overarching term for the various types of liquors derived from mashed up grains such as barley, rye, wheat, corn, etc. Irish whiskey, bourbon and scotch are the subcategories of whiskey, and each type of liquor has its own unique history.
Let's start with bourbon. Bourbon was born in Kentucky; it was named for one of Kentucky's three original counties, Bourbon County, established in 1785 when Kentucky was still a part of Virginia. Early Kentucky settlers realized they could use their excess corn and other grains to make them into whiskey. Once the beverage became popular, farmers shipped their whiskey in oak barrels down to New Orleans. The shipping process allowed the whiskey to age, and the oak to infuse its flavor and amber color to the liquor. I like to celebrate those settlers' ingenuity with the following:
Bourbon Hot Cocoa
My bourbon hot cocoa is a play off of Mexican hot chocolate, so it's spicy and full-bodied. I prefer bourbon to Irish whiskey because its flavor always seems a bit bolder to me. It adds some extra heat to the mix and simply tastes delicious with some chili powder.
Ingredients:
1 shot of bourbon/whiskey (I used Bulleit Bourbon, but you can use Irish whiskey if you prefer)
1 cup almond milk
1-2 teaspoons Ghirardelli's hot cocoa powder or a 1-ounce square of Ghirardelli's dark chocolate
1 teaspoon honey
1 cinnamon stick or a pinch of powdered cinnamon
a pinch of chili powder
whipped cream
Heat the almond milk, add the chocolate, and stir in honey and spices. Spike with your whiskey of choice and adorn with whipped cream as preferred.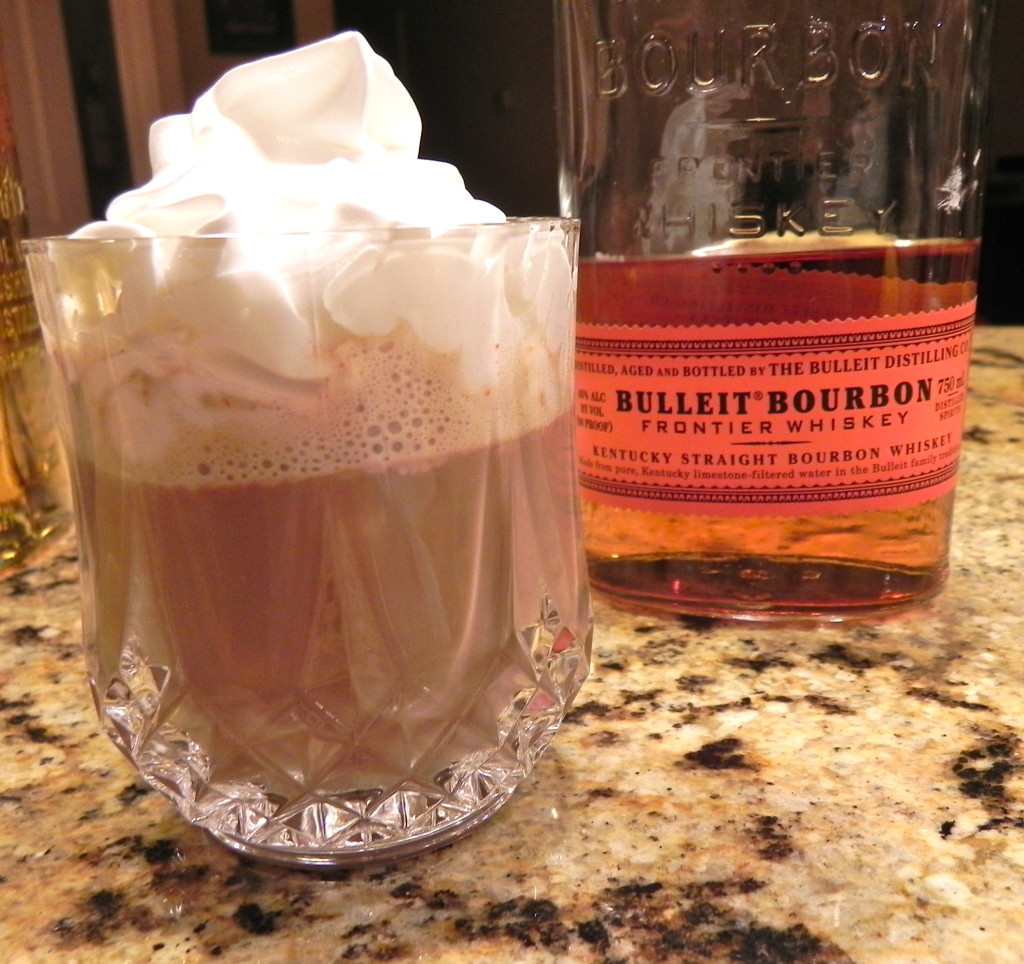 Now let's head to Ireland, the birthplace of all whiskey. Irish whiskey is a large category and includes single malt whiskey, which is usually associated with scotch. Single malt is made purely from malted barley and is distilled in a pot still, a nifty pot-shaped vessel, whereas lighter grain whiskeys are distilled in column stills, which, as you may have guessed, are in the form of columns in lieu of pots.
The art of distilling is believed to have been the brainchild of Irish missionary monks, especially one Saint Patrick. Naturally, they couldn't keep their exquisite secret hidden for long, and word of their brilliance spread well outside of religious circles. Apparently the monks used whiskey for medicinal purposes, so I toast to them with a spice-filled hot toddy.
Irish Hot Toddy
I was introduced to hot toddies when I was cursed with the flu. A dear friend poured me the warm spiced hydrating elixir, and it knocked me right out. It has now morphed from a cold remedy to the perfect nightcap.
Ingredients:
1-2 shots of whiskey (I used Bushmills*)
1 cup water
1 teaspoon honey
1 cinnamon stick
1 star anise
3 whole cloves
1 slice of lemon
pinch of nutmeg
Bring water close to boiling or as hot as preferred for tea. Steep cinnamon stick, cloves, star anise, and lemon, for about a minute. Stir in honey, spike with whiskey, make sure the star anise is floating prettily, and add a pinch of nutmeg just before serving.
*I'm a Jameson girl, but I was gifted this gorgeous Bushmills this year, and it worked surprisingly well with the recipe. Feel free to diversify, but I recommend a smoother whiskey. Also, having received its license in 1608 from James I, Bushmills claims to be the oldest licensed whiskey distillery in the world. I figure the distillery has been alive and kicking for 404 years, so something must be right.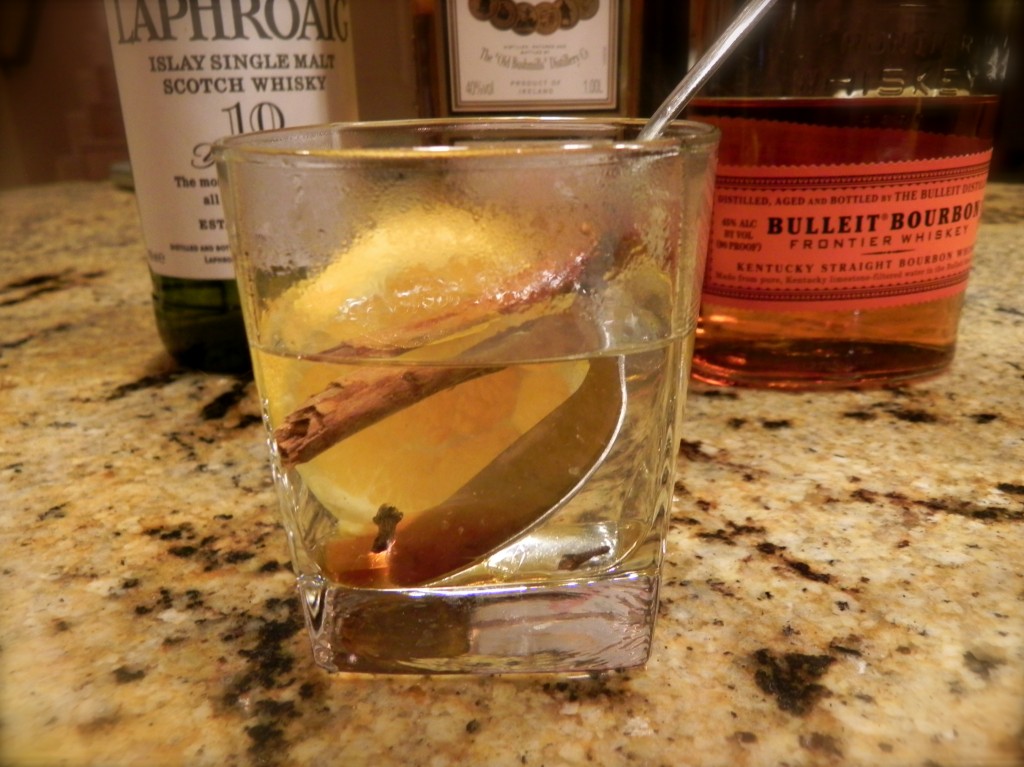 Laphroaig and Other Scotch
And now, having saved the best for last, let's indulge in concoctions of Laphroaig, "the beautiful hollow by the broad bay." The 10-Year-Old Laphroaig is like my perfect man — complex, fascinatingly unique, excellent on my nose, even better on my eyes, and prone to bringing out the best in me at most every meeting. It's an Islay Scotch, meaning it comes from Islay, one of the southernmost islands of the Inner Hebridean Islands, off the west coast of Scotland.
While distilleries in Laphroaig existed well before the "official" distillery was born in 1815 as Johnston & Johnston, they existed in secret as a community affair back when distilling was illegal (prohibition was not just in the States). Once it was properly established, the distillery became famous for its smoky, tangy flavors, incorporated from the salty seawater that their white oak barrels breathe where they're stored on a warehouse on the sea.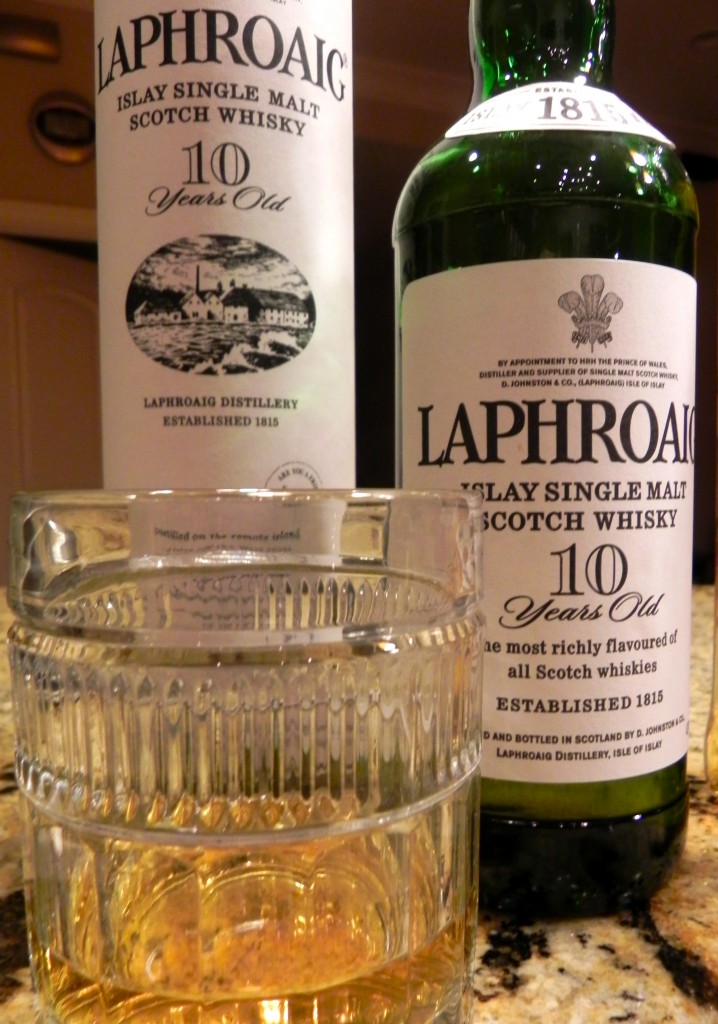 Islay malts in general are known for their "peaty" taste. Peat is basically decayed moss found in bogs, which brings in the woodsy, smoky flavor unique to Islay scotches. There are only about eight distilleries in Islay, and I recommend the whiskies of Laphroaig, Ardbeg, and Caol Ila. Each has its own unique peaty flavor with a sweet-ish aftertaste. 10-Year-Old Ardbeg is perhaps the smoothest and sweetest of the three.
Islay is just one type of Scotch whisky (scotch whisky is never spelled with the "e" found in whiskey). Whisky can be made anywhere, and is quite popularly made in Japan, but it may only be titled Scotch if it's produced in Scotland. Whisky is composed of barley, water, and yeast and undergoes an intense distilling process to achieve its state of glory. (Here's a detailed description of the process.)
The smokiness of Scotch can be traced from west to east, with the islands incorporating the most peat. For those who seek something smoother, I recommend Scotches from the Highlands in the east. The 10-Year-Old Glenmorangie is a gorgeous golden brown whisky with a strong honey flavor. The distillery boasts the tallest stills in Scotland, but is most famous for the complexity of its whiskies and their ability to incorporate several subtle flavors.
For something in between the smokiness of Islay and the sweetness of the Highlands, Oban, from the west coast of Scotland, is an excellent option. It's one of the smallest distilleries in Scotland, and lies in a fishing village. Its 14-Year-Single Malt Scotch is golden, with an autumn fruit flavor and a gentle smoked finish from the light peat used.
I greatly appreciate Scotch and am always thrilled to share it, but I have to say, it is quite potent. This once dubbed "ardent spirit" is not for the faint-livered, so please explore and enjoy with care.
Whatever you're toasting with, happy new year and cheers to 2013!