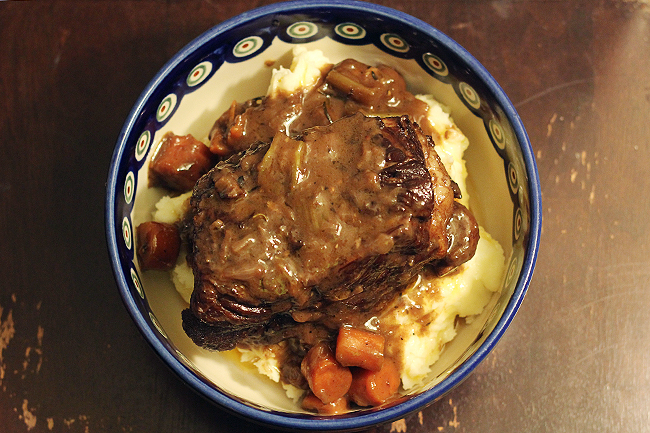 Another braise? I know. But it's that time again! Winter is coming, and this year, I choose to combat its frosty temps and overall misery by watching Harry Potter marathons* on TV while slowly roasting large chunks of meat in the oven.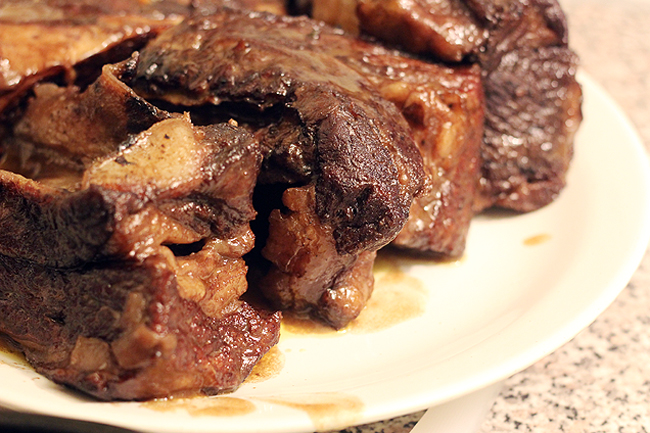 Braised short ribs are a classic, whether you're cooking them in the oven (like I do here), on the stove (so easy!) or even in a slow-cooker (I promise this is coming!). Red wine seeps into the short ribs and tenderizes them, while herbs and aromatics impart deep flavor to both the sauce and the meat. It's rich and warm and comforting, and doubles as the most wondrous-smelling scented candle that also heats up your home (or at least your tiny apartment).
I first made wine-braised short ribs a few years ago, using a similar recipe. The major change with this version is the addition of a few tablespoons of flour, which thickens the sauce and makes it more gravy-like, perfect for spooning over garlicky mashed potatoes. I didn't strain the sauce, since the little chunks of carrot and celery are delicious, and next time (there will definitely be a next time), inspired by this beef bourguignon, I will be adding mushrooms.
You can probably guess how delicious these were — I mean look at those pictures.
Words aren't enough, only emojis will do: 😍 😍 😍 😍 😍 😍 😍
*Dear ABC Family / soon to be Freeform: please don't let me down. I need "Harry Potter weekends" every week from now until April. Continue reading →