After spending the past few days in sun-soaked beachside paradise, I have returned to the brutal realities of 15-degree weather. Yes — hopefully for the last time in a long, long time (but probably not, since I see yet another little snowflake in next week's forecast) — i am yet again complaining about the weather. I'm boring, I know. I've accepted it.
During this week's search for comfort food, I turned to the Irish. No stranger to long, bitterly cold winters, the Irish have a plethora of hearty fare to warm you right up: lamb stews, shepherd's pie, colcannon and corned beef. While I had originally planned to make a lentil-based vegan shepherd's pie (inspired by one I had at Nice Matin during Restaurant Week a few weeks ago), Fresh Direct had a sale on corned beef and I was extremely intrigued.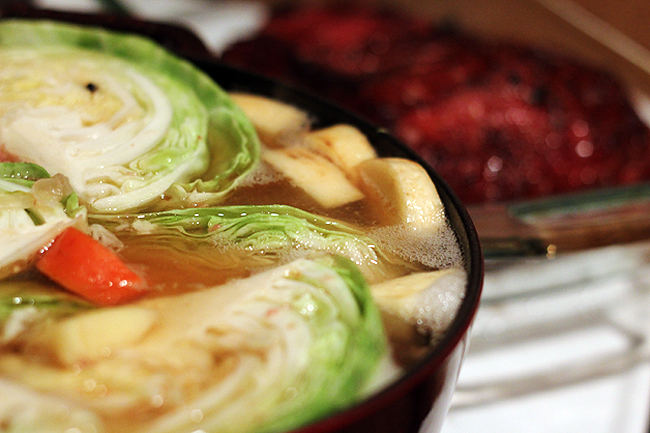 So, 3.5 pounds of meat later, I've learned a few things. A) Generally not a good idea to order 12-14 servings of meat when you're cooking for one. (In other news, does anyone have any recipes for corned beef beyond hash and sandwiches? Anyone? Bueller?)
B) As it turns out, corned beef and cabbage isn't traditionally Irish. The traditional dish is bacon and cabbage, using thick slices of back bacon (aka Irish or Canadian bacon). Corned beef is a New England thing, and became popular among Irish-Americans in the mid-19th century.
C) Corned beef is produced by brining a cut of beef, usually brisket, for 7-10 days. Common brine ingredients include mustard seeds, peppercorns, allspice berries, cloves, bay leaves and, of course, salt ("corns" are large grains of salt, hence the name). After the meat is cured, it is again braised, with cabbage, potatoes and other root vegetables.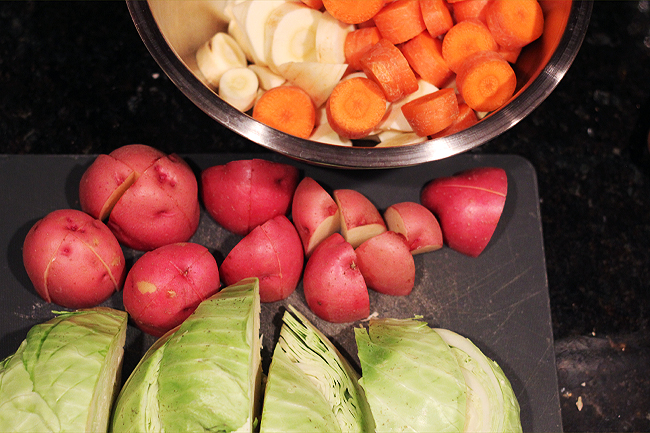 Since boiled meat sounds blecch, I decided to braise the corned beef in cider. Last month, the lovely Alex of Chez Sasha invited me to a dinner hosted by Plated and Stella Artois, to launch their new hard cider, Cidre (so Belgian). Alex wrote about the event in more detail on her blog, but the moral of the story is that we got to bring home bottles of Cidre. Since most of my home drinking is exclusively reserved for red wine, I thought the cider would be nice with the corned beef — a slightly tart sweetness to balance the salty meatiness of the beef.
When Googling around for recipes, I also stumbled across Suzanne Goin's genius idea of roasting the corned beef once it's braised. A few minutes in the oven caramelizes the fat and crisps up the meat, creating a delicious crust that adds some texture to the otherwise soft-as-a-pile-of-feathers beef. (In case you don't remember, braising is my absolute favorite way to transform tough cuts of meat into impossibly flavorful bites of heaven.)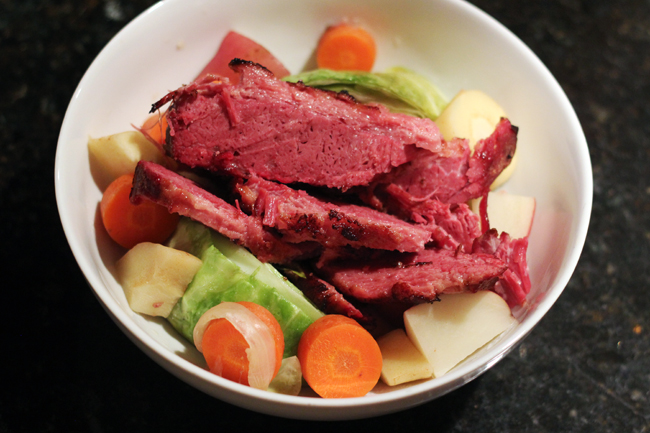 What really makes this corned beef and cabbage sing is the addition of mustard. Goin's recipe calls for a mustard-parsley sauce, but even my lazy squirts of spicy brown were perfect: a sharp edge to cut through the rich, salty meat.
Which brings me to my last lesson: D) If you're not a cabbage person (these two dishes aside) and you don't like salty things and you hate lunchmeat, maybe not a good idea to make a huge batch of corned beef and cabbage on a whim … St. Patrick's Day party at my house, everyone? Continue reading →