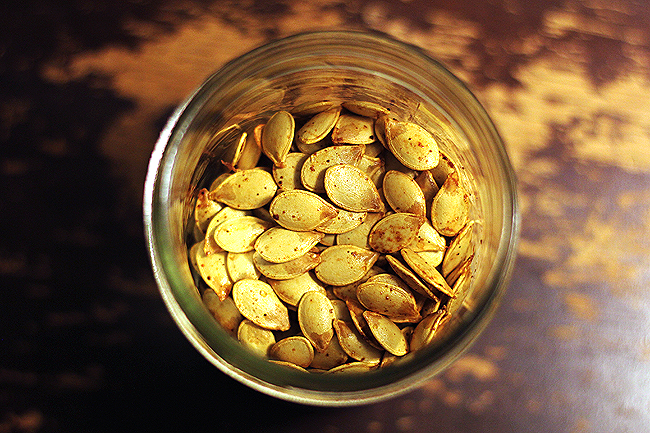 I like to think of this blog as a confessional space. So friends, I have something embarrassing to admit today: around this time every year, I get an unyielding urge to steal pumpkins from bars. It's a very specific itch — the decorative gourds at restaurants or grocery stores are of no interest to me. I dream only of bar pumpkins. And after two three six drinks? That pumpkin is mine.
Unfortunately, my coordination skills are suspect on a good day, and definitely compromised after a few beers, so I'm often rebuffed in my pumpkin thievery attempts, by bemused bartenders and bouncers who refuse to indulge in my whim. But last week, I finally brought one home!* Aaaaaaaand promptly left it on the dining table while I figure out how to carve it without slicing off a finger and/or making a blood-covered trip to the emergency room.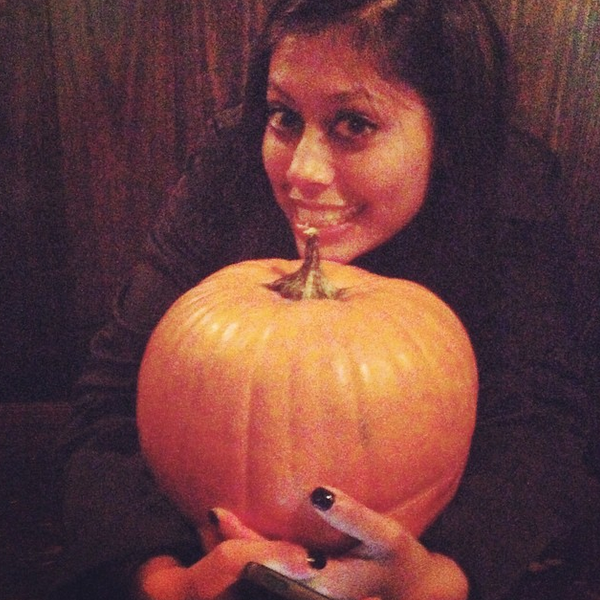 While I haven't quite mastered its intricacies, I do know the first rule of carving: don't throw out the seeds. They're so delicious when roasted, and so easy to roast, that tossing them is a such a missed opportunity. The fibrous gunk takes a few minutes to rinse off, but that's the most tedious part. Then, it's a simple matter of patting them dry, seasoning them and roasting them up.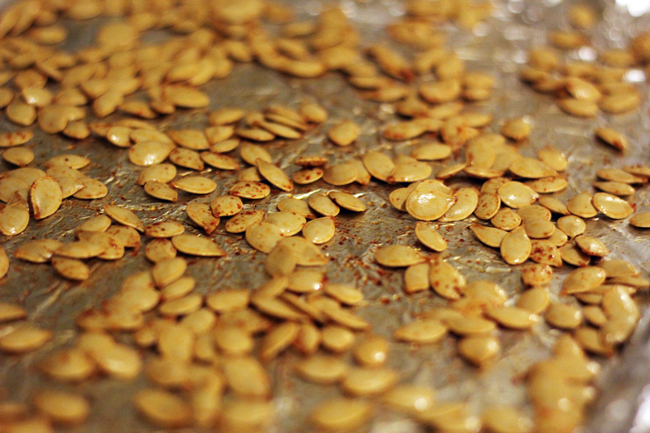 I haven't actually carved my pumpkin (yet.), so these seeds are actually from an acorn squash I stuffed this week. (Trust me when I tell you, you cannot wait for this recipe — it's bomb.) But any winter squash will do for this recipe, which is more of a jumping off point than a hard-and-fast "follow this to a T." I used paprika and a touch of cayenne to season mine, since I love smoky, spicy things in fall. But you could sweeten yours up with a touch of honey and cinnamon, or go the herb route with dried or fresh thyme, rosemary or sage. You could even throw in some grated Parmesan or Pecorino (though be careful that the cheese doesn't burn while baking — toss the seeds on the sheet frequently to prevent this).
The roasted pumpkin seeds are the perfect snack for all sorts of fall activities: football-watching, leaf-peeping, pumpkin beer-drinking. They're also great salad toppings, especially when paired with their squash brethren. Basically, I've discovered another reason to fuel my pumpkin kleptomania this time of year … be worried.
*This was my second success. Mili and I nabbed one a few years ago, and when I walked into my apartment with another pumpkin, my roommate looked at me and exclaimed, "Again?" Continue reading →