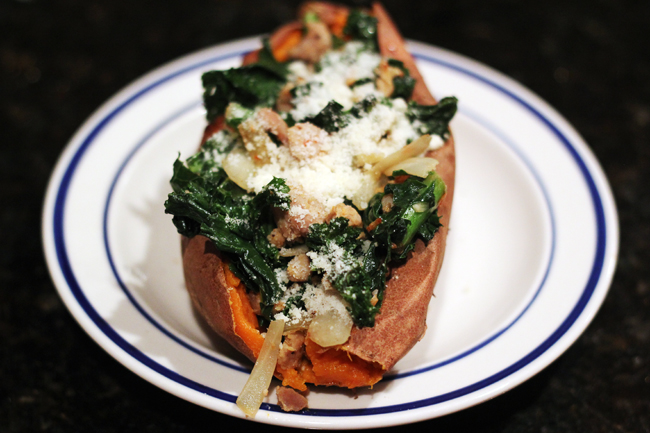 It's sweet potato week on this blog, people! I inadvertently made two recipes featuring them this weekend, since I've basically floated between the same three or four vegetables during this never-ending winter. You've seen them all here: Brussels sprouts, winter squash, kale, and of course, the glorious sweet potato. I should probably expand my palate to include some other winter staples (though, hello beets and carrots!), but a girl can only stay away from her brassicas for so long.
Some sweet potato trivia to blow your friends' minds at your next party: though we often use "sweet potato" and "yam" interchangeably, these vegetables are completely different. What I've used in this recipe is a sweet potato, which originated in either Central or South America. There are many varieties (not all of them have orange flesh), but they are generally sweet, have a thin skin and are commonly found in the U.S. True yams originated in Africa and Asia, are more starchy than true sweet potatoes, and have a much rougher, scalier skin. You likely won't find them at your local supermarket. Here's more if you're interested. (Am I the only person who finds this fascinating? Is this why people avoid me at parties?)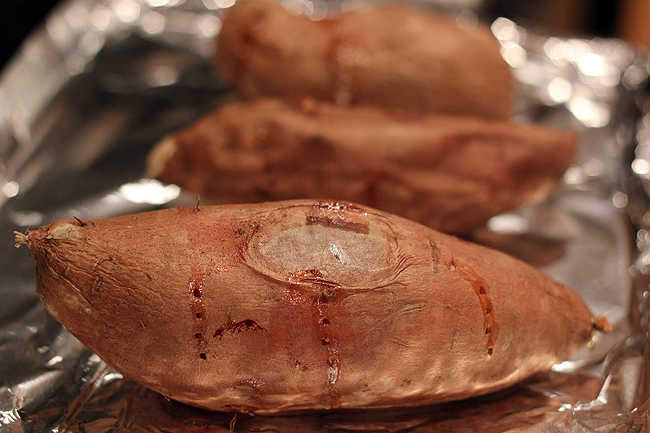 But I'll assume you're not here for a botany lesson. You're here for the deliciousness that is salty, spicy sausage and garlicky, crunchy, faintly bitter kale tucked inside the buttery soft, sugary sweet flesh of a baked garnet sweet potato. Topped with a sprinkle of Pecorino, these sausage-stuffed sweet potatoes are full of contrasts in flavor and texture, the kind of meal that looks and tastes fancy but is deceptively easy.
While the oven does all of the work for the potatoes, you simply crumble up some hot Italian sausage (I used chicken, but pork works too), then saute an onion, some garlic and a whole lot of kale until it's crisp-tender. The hardest part is waiting for the sweet potatoes to cool before ripping them open and stuffing them.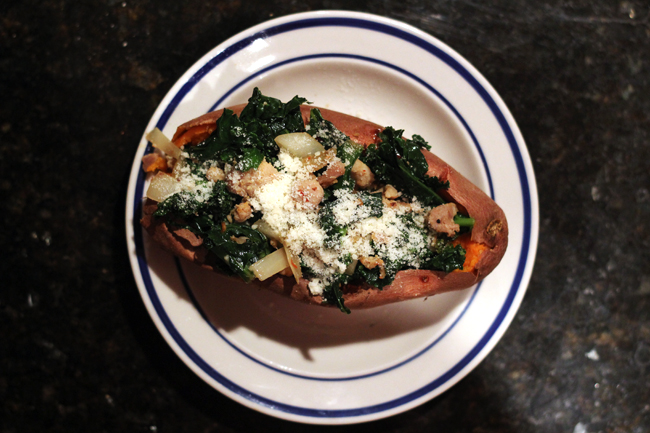 *Seriously. I had to fly the coop so that my toes could finally defrost. Also, the promise of 80-degree temps is the only way Milan could get me to visit LA. In related news, I will be practicing my #surfbort moves from now until Sunday morning, when I try my very first surfing lesson (!!) Continue Reading →