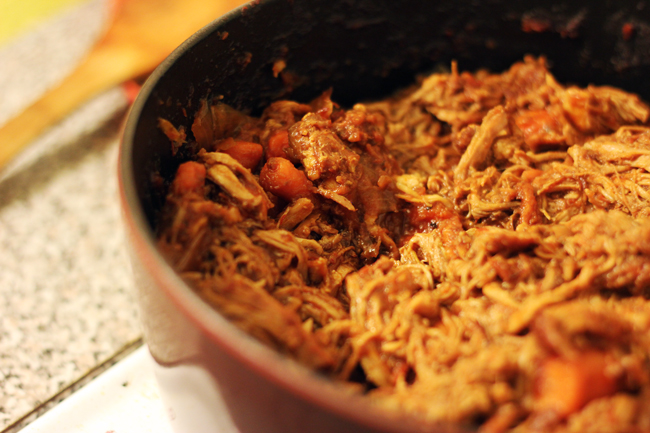 For my birthday this year, I decided to host a small dinner party at my apartment. It was a mildly ambitious idea, since my birthday was on a Monday this year and I was away that weekend. But with a bit of planning, I was able to throw something together, something that was so well-received that there were barely any leftovers. A few things I learned along the way:
1) PLAN AHEAD. I cannot emphasize this enough — decide what you'll be making, buy all of your ingredients and create a cooking schedule a few days before the actual party. Even if you plan to cook mostly on the day of the dinner, have a mental timeline of what you'll make, when you'll make it and how long you'll need. This was essential for me, since I wouldn't be able to do any shopping over the weekend, and had very limited time to actually cook.
2) Many people say that you should never try new recipes when cooking for others. I won't go that far, but I do think it's best to avoid new techniques. If you've never used a pressure cooker before (or roasted a chicken or cooked fish, etc.), a dinner party isn't the time. But if you've braised meat a hundred times in the past, go ahead and try that new braised short ribs recipe. Since you already know what you're doing technique-wise, trying new ingredients won't derail you. Just taste as you cook, to make sure that you like the flavors.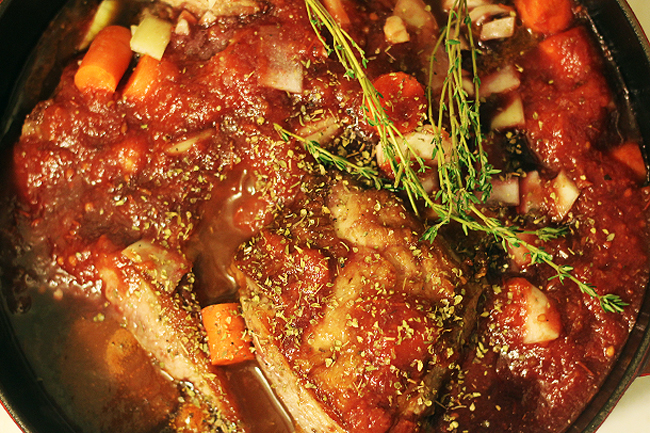 3) Lean on make-ahead recipes. Because my party was on a Monday, I knew that I'd have to make the bulk of my meal on Sunday night. So I chose something that I knew I could make ahead of time and that would reheat well. Even if you have all day to cook, make things easier on yourself by giving yourself some extra time to get everything together.
4) Avoid any embarrassing moments — ask your guests about any food allergies or preferences beforehand. There is nothing worse than spending all day cooking up pot roast and then finding out that half of your guests are vegetarian.
5) Keep it simple. You don't need a hundred items or ten-step recipes or tricky-to-use ingredients. You'll have a million things to do without adding complicated elements to the dinner. Keep things relatively low-maintenance, so that you can really focus on making a delicious meal.
6) Let your friends help. You might be making the bulk of the dinner, but ask friends to bring snacks, wine, dessert and any other small things. They'll be more than happy to contribute (I'm assuming. You're friends with them for a reason, right?), and it'll ease some of your workload.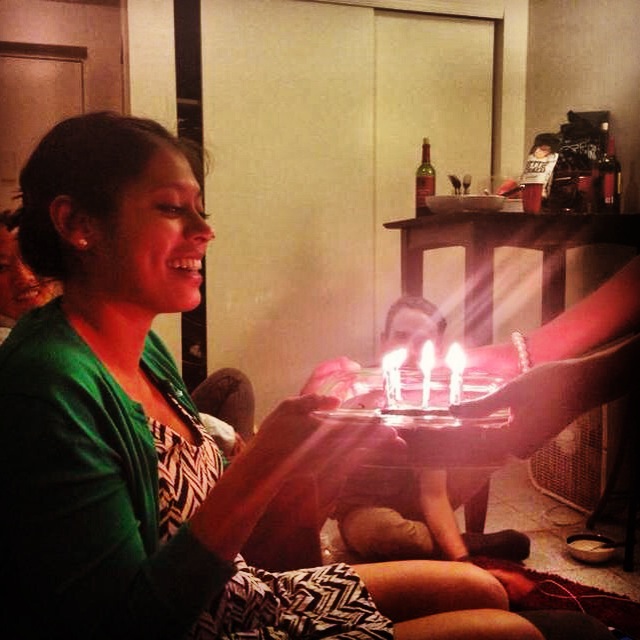 7) And definitely don't forget to have fun! At the end of the day, you're hosting a party. It's supposed to be a good time, and your friends will love you regardless of what you serve.
For my dinner party, I made pork sugo, which is an Italian meat stew that's often served with pasta. I simplified Food 52's recipe a bit, partially because I am incapable of following instructions properly and partially because I used what ingredients I had on hand. Like all braises, the meat cooked itself slowly on the stove while I slowly worked my way through the Gilmore Girls ouevre. I served it with polenta and Brussels sprouts, and barely got a chance to grab a pic before it was devoured. Guess that's a sign of a good dinner party?