Last month, I went out and did the yuppiest thing I could ever do: I joined a CSA. Our office started one for HuffPosters, and a co-worker and I split a share, so it ultimately turned out to be relatively reasonable: roughly $40 a month for a random assortment of vegetables (which I can't pick), meats, cheeses, eggs, dairy, granola and even prepared meals (which I can pick).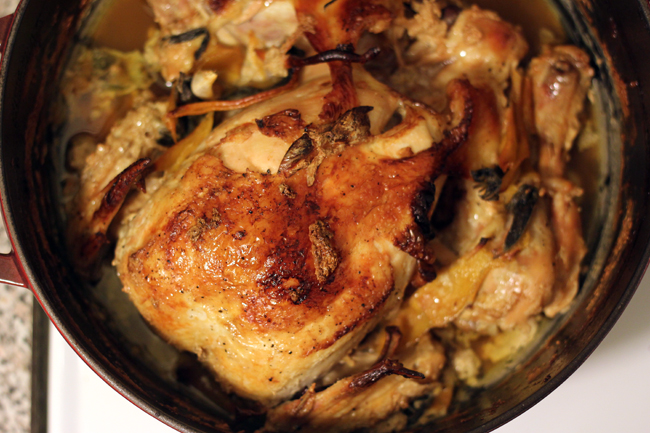 What is a CSA?* Short for Community Supported Agriculture, CSAs are a way for farmers to provide fresh, local, seasonal food directly to customers, while receiving advance money from those customers to set up (or keep fueling) their farming operations. Customers pay for their monthly (or bi-weekly, depending on the program) boxes up front, and then receive whatever bounty from the farm on a regular basis. In the NYC region, that means that during summer months, you may get a box full of fresh tomatoes, zucchini, eggplant, peppers and all sorts of fruit. And during the winter you get … root vegetables. Some CSAs offer only fruits and vegetables, and others partner with dairy, beef, pork or chicken farms to offer other options.
Our CSA, run through Eat Food Distributors, sells all different types of meats, plus offerings from a few different dairy farms and some local artisanal products. While you can pick from those options, you have no say in what fruits/vegetables you'll receive, which is solely based on what the farmers have available at that time. And let me tell you, it is unreasonably exciting to open up your bag and see what goodies are in store for you each month. (Or maybe I just need to get a life.)
Our February box came with some onions, potatoes, beets, apples and some greens — typical winter fare in the Northeast. To add to it, I ordered a whole chicken. I had spotted Jamie Oliver's Chicken in Milk recipe a few weeks prior and decided "I must make this now." "Now" turned into "once my CSA box arrives" and then into "when I have a free day to spend a few hours cooking chicken," which arrived in the form of a surprise day off on President's Day. And what better time to use a fancy organic, pasture-raised chicken than in what The Kitch calls the best chicken recipe of all time?"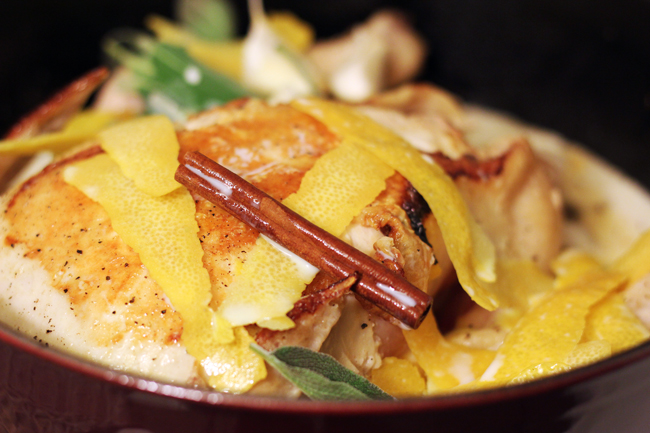 It sounds weird (and wholly unkosher), but you take a whole chicken, brown it in a bit of butter and then braise / roast it in a pint of milk with cinnamon, sage, lemon and a whole lotta garlic. You would be right to be skeptical — those aromatics don't seem like they would go together — but trust in Oliver. The lemon and cinnamon infuse the chicken with a brightness mellowed only by the sweet roasted garlic and the herby sage.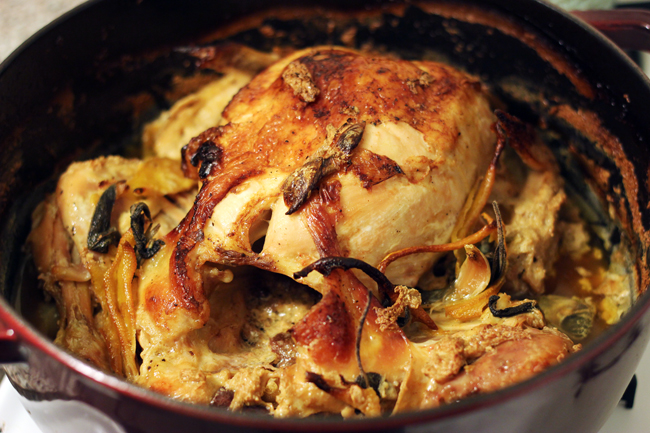 The best part of this chicken is the sauce — the lemon zest and heat transform the milk into curds, which are creamy and tangy and unreasonably delicious. (It's similar to the way my mom makes channa, the soft milk curds that form the base of many Indian sweets, slowly heating a gallon of whole milk with lemon juice until the milk curdles and forms small ricotta-like curds.) This milk sauce is heavenly, imbued with lemon zest and all the caramelized buttery chicken bits from the browning stage and a touch of cinnamon … while I can't say you absolutely must join a CSA now (they're expensive and a little fussy), you absolutely must make this chicken in milk now.
*I wrote about CSAs on this here blog literally 5 years ago, while working on my Master's project. Time flies. Continue reading →