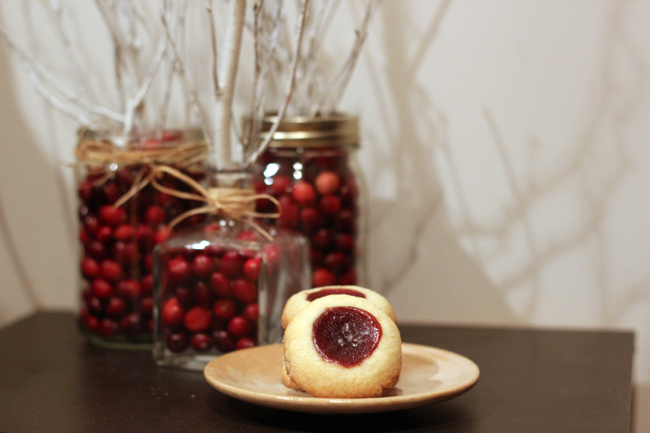 I'm not sure why cookies are so big this time of year. Every major food website and blog has between 5 and 25 days of cookies (Martha has so many holiday cookie recipes that my head may explode), but why now? What makes everyone and their grandma bury themselves to their elbows in butter, flour, sugar and eggs, rolling out one batch after another of sandies and meringues and shortbreads and sugar cookies and crackles and sables and crescents and the list goes on and on.
Could it be because cookies are portable, and therefore perfect for bringing to parties? Or is it because they're pre-portioned by nature, and therefore easy to serve to large crowds? Or maybe both, plus they're delicious? In any case, I'm glad that there's an entire month devoted to cookie-baking, since I don't do nearly enough of it during the year.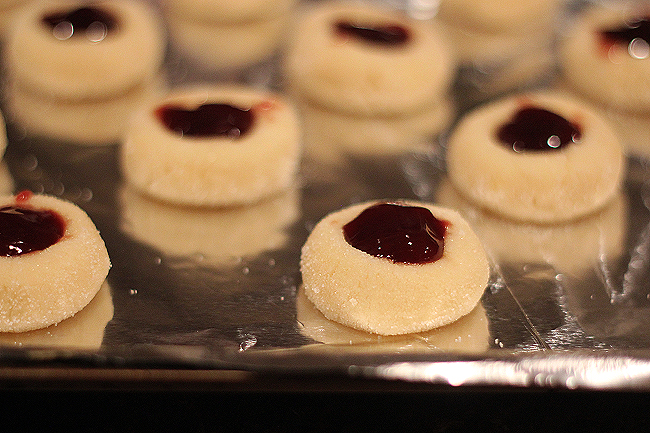 While being bombarded by browsing through cookie recipes the other day, I happened upon one for raspberry thumbprint cookies. I was never really into thumbprints as a kid, but I'm a sucker for a pretty cookie and these looked so lovely and festive with their ruby red jam-filled bellies. Since my apartment is so cold that I need to turn the oven on to heat it, I figured I might as well make a project out of it.*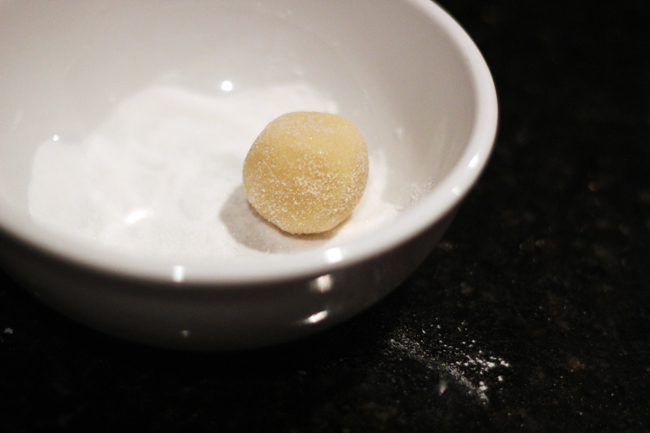 And I'll be honest: though the dough takes no time at all, forming these are a bit of a project. My one knock on cookies is that they take some time, since you have to make each one individually. (Hence why bars are the perfect dessert. Still portable and pre-portioned, but you just bake them in a pan and slice 'em up!) For these thumbprints, you first have to form them into balls, then indent each ball, then fill each indentation with jam. It helps if you have a good show to watch while doing this, or you could be like me and just watch this on repeat.
But the effort is pretty worth it. The slightly tart jam is a perfect foil for the buttery sugar cookie base, and in a season where looks matter most, these raspberry thumbprint cookies are showstoppers — no weird frosting required. Worth pulling out the flour and butter for!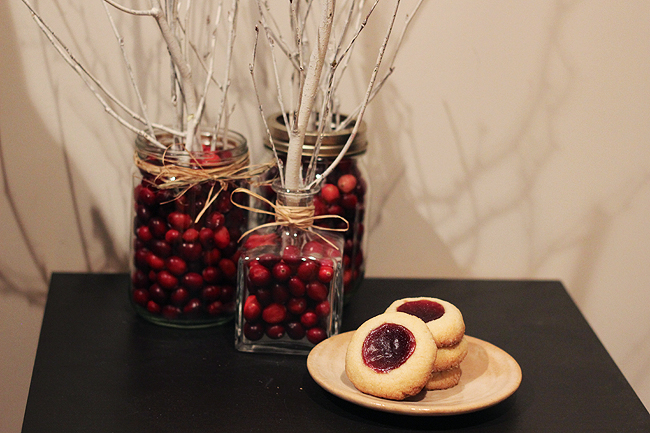 *This is no joke. I've been cooking almost every day this week, since it's the only way to keep myself warm. The only other option is burying myself under the covers, which is so much more fun when you've got cookies. Continue Reading →