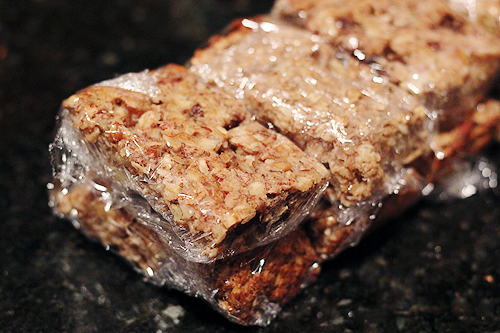 When I say these granola bars are magic, I really mean it. They are gluten-free (as long as you're using gluten-free oats*), vegan and sugar-free, but still taste like the best banana bread you've ever had. No weird gimmicks or strange ingredients, just bananas, peanut butter, oats and your favorite mix-ins. Seriously. MAGIC.
How did I unearth this wondrous recipe? To make a short story long, I had a few bananas dying a long, slow death on my counter. Obviously, most people in this situation would turn to banana bread, but for the past week or so, I've been trying (and mostly failing) to cut back on my sugar intake. After getting called out on the staggering amount of sweets I ate in India, it became pretty apparent to me that I'm literally addicted to sugar. I can't go more than a day without something sweet, and if I do try to give it up cold turkey, I literally cannot think about anything else. I become irascible, tired, sluggish — it's really sad and scary and makes me actually kind of believe those studies that say the body reacts to sugar the same way it reacts to crack.
So, I'm trying to stick to only natural sugars for now, which obvi means no more cookies, cake, pudding and ice cream. But it also means no more cereal or oatmeal packets or granola bars, since those pack an absurd amount of sugar. Homemade is clearly the way to go, and when looking at recipes for granola bars, I wanted something with my favorite morning pairing: peanut butter and banana. (Seriously, I cannot get enough of these two together. I might even like them more than the combo of peanut butter and chocolate. Blasphemous, I know.) I also wanted something with no added sugar or weird sugar substitutes. High maintenance much?
Clockwork Lemon's recipe somehow hit all of those requests, while also being a one-bowl mash and mix affair. The bars are extremely flexible: you can use all oats or a combination of oats, puffed rice and other grains, and whatever nuts and dried fruit you have on hand. As long as you have 1-1/2 cups of grains, and 1-1/4 cups of nuts+dried fruit, you're good to go. Next time I might use unsweetened cocoa powder instead of dried coconut, or toss in some chocolate chips, because you know, anything is better with chocolate. You could also use almond or cashew butter instead of peanut butter, but really, why would you?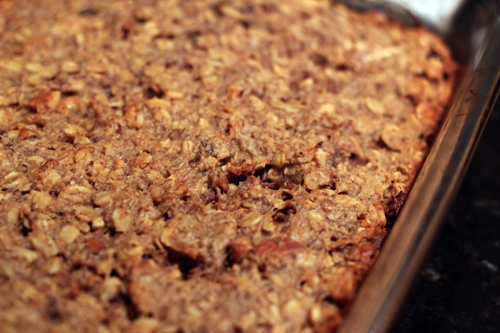 As if it needs stating, they're delicious — chewy and nutty and filled with peanut butter-banana goodness. The cherries add a touch of tartness, and the nuts add a nice crunch. Fair warning: they are pretty soft, so I've been storing them in the freezer so that they don't crumble in my lunch bag. The only downside? These are good enough for you that I can easily justify eating the entire pan in one sitting.
*Oats are naturally gluten-free, but most companies process them on machines that also process wheat/rye/barley products, thereby exposing the oats to trace amounts of gluten. So if you have a sensitivity to gluten, just make sure to buy gluten-free oats, which should be free of contamination. Continue Reading →