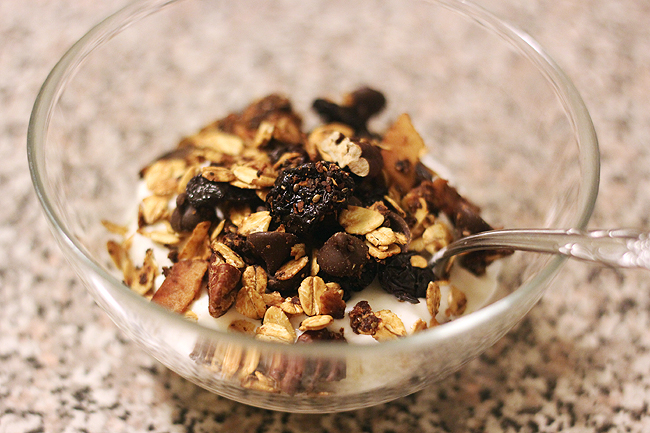 I had a hard time writing this post. I wasn't sure if I should go the travel angle (you know, "this dark chocolate cherry granola is great to pack on trips because it's healthy, easy to transport, delicious to snack on, will save you from making unnecessary rest-stop-chicken-nugget purchases [or is that just a me problem?] or buying a $17 turkey and Swiss airplane sandwich, etc. etc.") or the back-to-school angle ("now that you're back on the grind, make sure you're a) eating breakfast; b) that that breakfast is actually fueling you properly and not setting you up for an 11 a.m. crash; c) said breakfast is actually delicious and doesn't taste like weird bran-cardboard").
Is it too late for a travel-related post? Do people still take vacays on Labor Day weekend? Or has school already started and am I just so out of the loop that I don't even know these things anymore? These are the things I think about when I'm not marveling over Blue Ivy's "Flawless" dance or that kiss between Elaine Benes and Tim Whatley.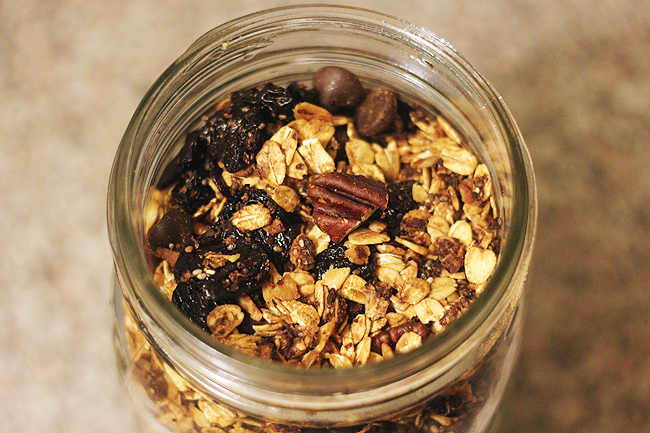 So instead of having an angle, I'm just going to talk about this granola. It features dark chocolate and cherries, two of my favorite things, and I threw in pecans for good measure. The inspiration came from a KIND bar, which float around our office as "healthy snacks" and I devour as a substitute for candy bars. (No really, their dark chocolate sea salt one with almonds basically is a candy bar. With only 5 grams of sugar. It's a magic candy bar.) This one, with dark chocolate, dried cherries and cashews (+antioxidants, whatever that means) was pretty good, but I wanted pecans, a bit more crunch and a little less sweet, and more spices. I found a granola version at Whole Foods, but at $5 a bag, I knew I'd eventually be forced to make my own.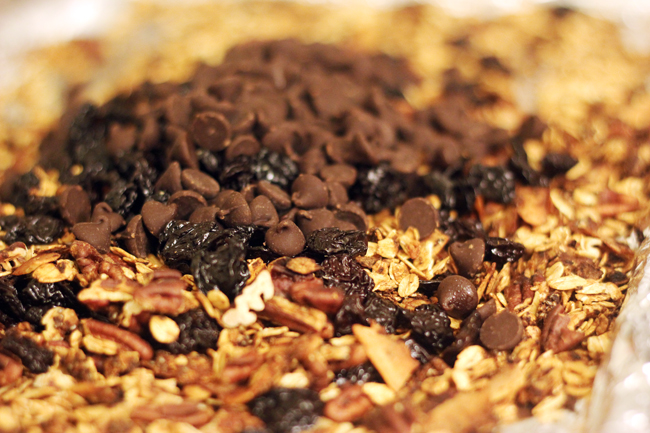 In my head, even though I've made it before, the prospect of making my own granola seems daunting. All those ingredients! There's a reason this stuff is so expensive, right? That's where the bulk section of your grocery store is a godsend, since you can buy as little or much of any ingredient you need. And then when you consider that the only steps here are "stir," "dump" and "bake," well … why aren't I (and you) making homemade granola all the time??
And as it turns out, the recipe is fail proof. I somehow graduated from an oven knob
whose temperature markings are all wrong to one that has no temperature markings whatsoever (asdfk;sdkfj;sdf;asdf), so my granola got a bit burned before I realized what was what. But it was still delicious — loaded with toasted nuts and tart cherries and spiced oats and dark chocolate chips.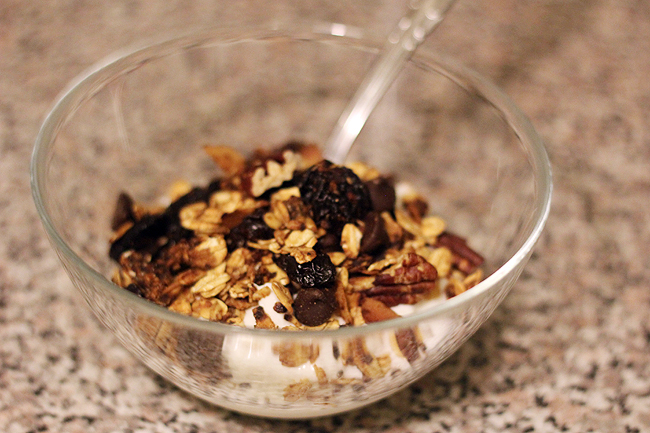 It's less sweet than store-bought granola, which is a big plus for me, but you may want to add a tablespoon or two of honey if you like your granola sweet. And I'm not so into clumps, but if you are, Food52 has some tips for creating big granola clusters. I used olive oil since that's all I had, which added a fruity, slightly savory note to the granola that I liked. But you could always use a more neutral oil like canola, or go the coconut oil route.
Regardless of how you tweak it, you should make this. Because as it turns out, dark chocolate cherry granola is perfect, either as a back-to-school breakfast or a road-trip snack, or even as an afternoon pick-me-up during a busy week. Continue reading →