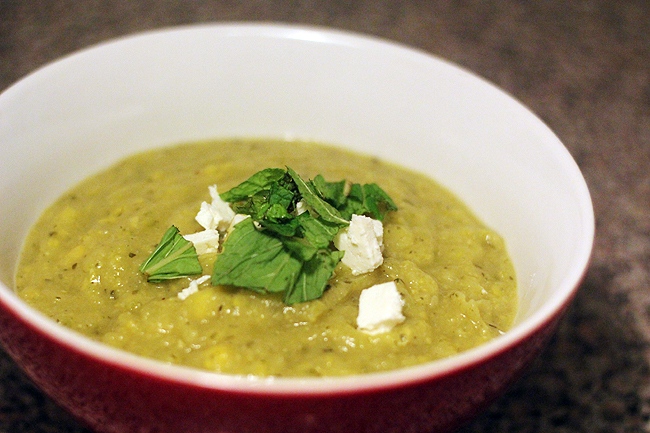 This was supposed to be a recipe for zucchini ribbon salad, with crunchy roasted chickpeas and crumbles of bright, tangy ricotta salata and a drizzle of extra fruity olive oil on top. But then I caught a weird midsummer cold, no doubt from the frigid tundra that is my office, and somehow that light summery salad became soup.
Unless you're going the gazpacho route, soup in the summertime is a controversial option–hot liquid on a hot day is usually no bueno. But it's been pretty mild the past few weeks (downright fall-like in the mornings, much to my chagrin), and soup can be such an easy, satisfying meal on weeknights, even if you don't have a runny nose and a hacking cough.
Look for small-ish zucchini, since they tend to have more flavor. I used frozen corn that I had in the back of the freezer (see: last minute recipe change), but it was still delicious, and fresh corn would be even better. Lemon zest and juice plus a handful of fresh mint add a zesty freshness to the soup, grounding it firmly in "summer" territory. And I couldn't resist adding a few crumbles of ricotta salata to finish, because y'know, cheese.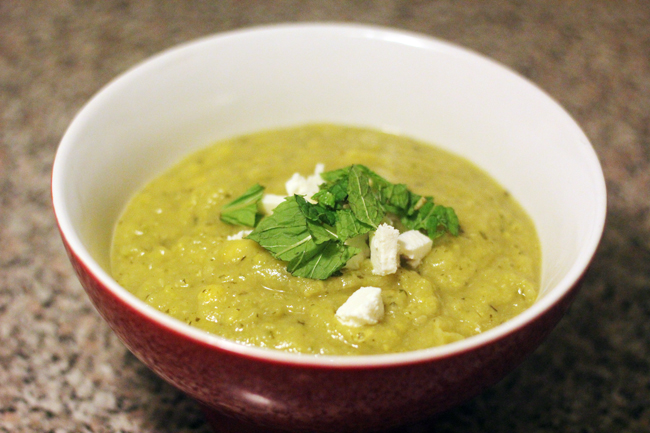 While eating this soup for lunch today, I came to a sad realization: summer is almost over. Labor Day is around the corner, and with it, all the back-to-business craziness of fall. I'm not ready to give up on summer dresses and Central Park picnics and days that last 'til 8 or 9 p.m. Let's not think about it, and just eat soup instead. Continue reading →