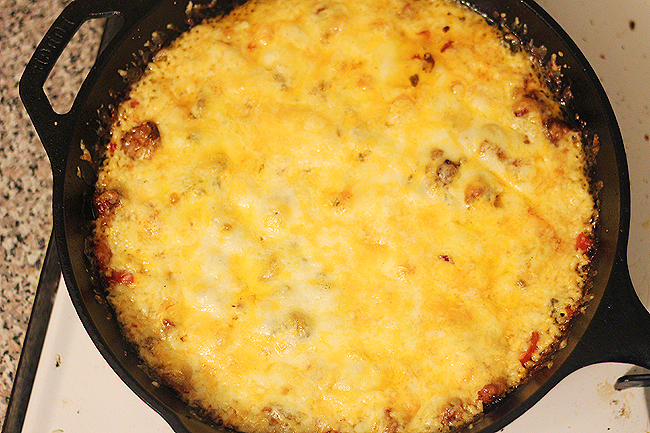 And I'm BACK in the game …
Is it any surprise that the catalyst that finally got me back in the kitchen was football season? It shouldn't be, given that football Sundays are my favorite part of fall (October 6 aside) and game-day recipes are their own subsection on this site. With fantasy season underway, I finally had my impetus to resume cooking.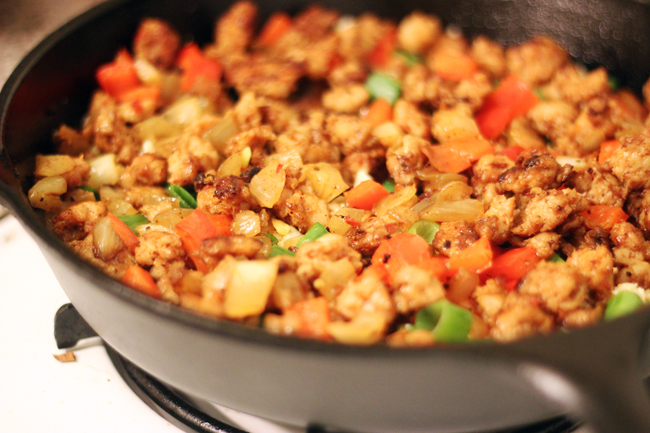 Queso fundido is a traditional Mexican dish that is basically a perfect combination of melted cheese and spicy chorizo. It's a huge party-pleaser (how could it not be?) and feeds a serious crowd, making it the perfect football food. Plus it's easy to make and, if you're grating the cheese by hand, gives you a serious arm workout, which is ideal when you're skipping a 15-mile training run to cook and have barely spent 0.2 seconds in the kitchen all summer.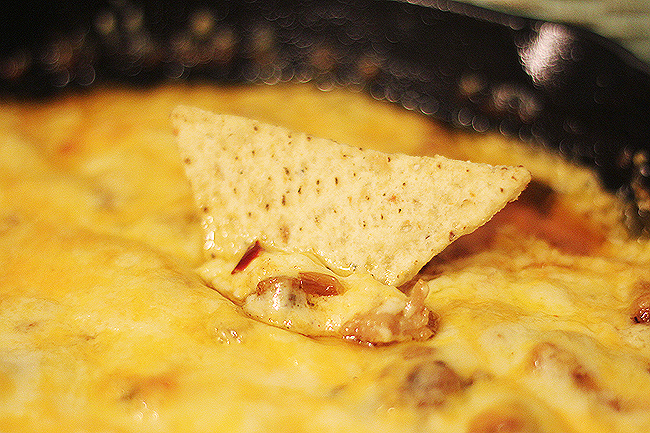 After basically an entire summer of not cooking, this queso fundido was a nice little reminder of the magic that can be created in the kitchen … feels good to be home!
Queso Fundido with Chorizo
Adapted from Melissa Clark
Serves 4-6 generously
– 7 ounces fresh chorizo, casings removed
– 1/2 of a medium yellow onion, diced
– 1/2 of a red bell pepper, diced
– salt and pepper, to taste
– 2 scallions, finely chopped
– 8 ounces pepper jack or Monterey jack cheese, grated
– 8 ounces sharp Cheddar cheese, grated
– for serving: tortilla chips, crusty bread, cut vegetables, etc.
1) Heat a 10-inch cast-iron skillet* on medium-high. Add the chorizo and cook until browned, breaking into small crumbles. Remove from the skillet and set aside.
2) Add the onions and bell pepper to the skillet. Season with salt and pepper, then saute until the vegetables have softened and are beginning to brown. Let the skillet cool to room temperature.
3) Preheat the oven to 450F. In a large bowl, combine the cooked chorizo, peppers and onions and scallions. In a separate bowl, combine both of the cheeses. Scatter half of the cheese in the bottom of the cooled skillet. Layer the chorizo-vegetable mixture over the cheese, then top with the remaining cheese.
4) Bake the queso for 7-10 minutes, until the cheese is bubbling and has started to brown. Serve immediately, with tortilla chips, hunks of bread or whatever else you can get your hands on.
*If you don't have a cast-iron skillet, use a regular skillet to cook the chorizo and vegetables, then use a 2-quart baking dish to bake the queso.